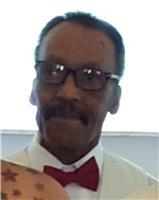 John Edward Miles Sr., 71, of Mechanicsville, MD, departed from this life on December 26, 2017. John, known to many as "Dink", was born September 14, 1946 to the late Thelma and Howard Miles. John "Dink" attended St. Joseph's Catholic School and Banneker High School. Dink was a former member of the Labor Union 456, until he retired several years ago. He worked countless construction jobs.

His greatest hobbies were purchasing and restoring cars, along with watching Western movies and his favorite football team - the Washington Redskins. Go Skins !!!! You could always find Dink playing cards and winning at Bingo or the Maryland Lottery Scratch-Offs. Dink was loved by everyone and he always shared various stories of his life experiences with each and every one that he came in contact with.

John was preceded in death by his parents, Thelma and Howard Miles; his sisters, Mary Teresa Harris and Mary W. "Mattie" Miles; one brother, James Howard "Bootsie" Miles and granddaughter, Key-arra Fenwick. John leaves to cherish fond memories, a devoted and loving wife, Mary A. Miles (Doll); three daughters; Irma (Terry) Fenwick, Rachel (James) Savoy and Kim Miles; four sons, Ronald (Kristin, finance) Thomas, Christopher (Rhonda) Thomas, Sr., John (Cindy) E. Miles, Jr. and Joseph (Michaela) Mason, along with eleven grandchildren and seven great-grandchildren and another one on the way; two sisters; Barbara "Ann" (Thomas) Gough, Donna "Cissy" Owen and three brothers; Wallace (Agnes) Young, Francis "Rome" Miles and Joseph "Tony" Miles and a host of nieces, nephews, relatives and plenty of friends.

Family and friends will unite on Tuesday, January 2, 2017 for visitation at 10 am until Mass of Christian Burial at 11 am at Sacred Heart Church, 23080 Maddox Rd, Bushwood, MD 20618. Interment to follow at the Church Cemetery. Arrangements by Briscoe-Tonic Funeral Home.