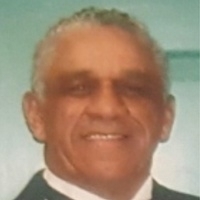 Eugene C. Johnson Sr., 81, was called home to be with his Heavenly Father on Friday, December 22, 2017 at the Fort Washington Nursing and Rehabilitation Center in Fort Washington, MD. Eugene was born to the late John Queen and Susana Elizabeth Johnson of Accokeek, MD on June 1, 1936. Eugene was a 1953 graduate of Fairmont Heights High School. Soon after, he created the band known as "The Progressive Bops." He loved playing the guitar and would play music all over, especially Charles County and Prince George's County.

After High School, he continued to play music and started his own business in Pisgah, MD called the Lucky Strike. He then purchased property In Bryans Road, MD and created the Palador Grocery Store and Club. Eugene was well known for his jovial spirit, his generous heart, and being an awesome guitar player.

Eugene was a member of the St. Mary's Star of the Sea Church choir for over 20 years. He was a member of the Pride of Southern Maryland Elks Lodge #968, Bryans Road, MD where he served in several positions. He was also a member of the Family on Wheels motorcycle club for the past 35 years. He enjoyed going to Myrtle Beach, Daytona Beach, and various other places visiting family and friends while enjoying the fellowship of the club members.

Eugene was an entrepreneur. He established "Johnson Auto Parts" and started his own Recycling Business, just to name a couple. He also had other businesses as well. Eugene married Ingrid Spangler in 2001 and they loved to travel to California, New Mexico, and Florida to visit with family and friends.

He is survived by his loving wife Ingrid, daughters, Debra Harris-Trott, Yvette McPherson, Penny Warren (Porter), Vincent Eugene McKenzie (Dorothy), step sons Richie (RayAnn) and Michael (Megan) Spangler; brothers, Walter Johnson (Judy), Willis Johnson (Bettie), Darrell Johnson (Arlene), and William Queen (Joyce); sisters, Sarah Smith, Eloise Pickeral (Joseph), Rene Dorsey (Troy), and Gladys Queen. He is also survived by a host of grandchildren, nieces, nephews, other relatives and friends. In addition to his parents, Susana and John Queen Johnson, he is also preceded in death by his sister, Veronica Ali, brother, Calvin Johnson, and son, Eugene C. Johnson, Jr. He will be truly missed!

A special thank you to the nurses and staff at the Fort Washington Nursing and Rehabilitation Center Ft. Washington nursing home for their care and dedication to Eugene during his last days. His viewing will be held from 4pm to 8pm, Prayers 7:30pm on Friday, December 29, 2017 in the Chapel Thornton Funeral Home, 3439 Livingston Road, Indian Head, MD 20640. Mass of Christian Burial, 10am, Saturday, December 30, 2017, Resurrection Cemetery, Clinton, MD. Arrangements by Thornton Funeral Home.