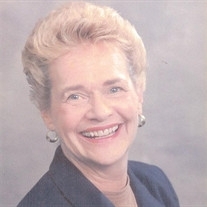 Margery Sullivan LaMar, 84, of Port Tobacco, Maryland, died at her home surrounded by her family on December 17, 2017. She was born to the late Samuel Eugene Sullivan and Ruth Dewberry Sullivan on September 28, 1933 in Brainerd, Minnesota. Mrs. LaMar was reared in Birmingham, Alabama and attended John Carroll High School.

Mrs. LaMar graduated from Auburn University with a Bachelor's Degree in Vocational Home Economics and Secondary Education. She was president of Phi Mu sorority at Auburn. During the summers while in college, Mrs. LaMar designed and operated the original City of Homewood recreational programs. She taught art and crafts at the Birmingham Girls Club and at Camp Takawitha for less privileged children.

She served as the Assistant Chief Clerk of the Maryland House of Delegates for 13 years and thereafter enrolled in law school at the University of Baltimore, Maryland. Upon graduating from law school, Mrs. LaMar accepted a position as the law clerk to Judge James L. Wray of the Circuit Court for Anne Arundel County. One year later, she opened her own law office concentrating on family law and practiced out of the same building for 22 years.

Since relocating to Port Tobacco, Mrs. LaMar has participated in the activities of the Southport Landing HOA, the Port Tobacco River Conservancy, the La Plata Community Garden Club, the Charles County Master Gardeners, the La Plata Fitness Center and the St. Ignatius Catholic Church.

Mrs. LaMar met James A. LaMar, her future husband, in the first week that she was on campus and married him the day after they graduated. They resided in Winchester on the Severn for 38 years before moving to the Port Tobacco River in Charles County in September 2002.

In addition to her parents, she was preceded in death by her husband James and granddaughter Sara C. Koehler. She is survived by her two daughters, Cassandra LaMar Koehler of Boiling Springs, Pennsylvania and Virginia LaMar Webster of Port Tobacco, Maryland, their husbands, four grandchildren and ten great grandchildren.

A gathering of family and friends will be held on Saturday, January 6, 2017 from 10AM until time for Mass to begin at 11AM at St. Ignatius Catholic Church Chapel Point, 8855 Chapel Point Road, Port Tobacco, MD 20677. Interment to follow in the church cemetery. Memorial contributions may be made to Hospice of Charles County 2505 Davis Road, Waldorf, Maryland 20603. Arrangements by Raymond Funeral Service.