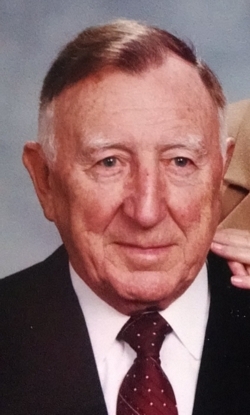 Lyle Bercier, 95, of La Plata, MD passed away on December 19, 2017 at the University of MD Charles Regional Medical Center. Born in St. John, ND on June 8, 1922 to the late Jerome and Hannah Bercier, Lyle is also preceded in death by his sons, Richard and William Bercier. Lyle is survived by his loving wife, Betty; son, Robert Bercier (Susan); daughter, Linda Kirkwood (Mark); grandchildren, Randy, Jaime, Jennifer and Krystal; and great-grandchildren, Marissa, Austin, Collin, Kensington, Caleb and Jacoby.

Lyle was a veteran of the US Navy and served in WWII where he was one of 18 sailors on the USS Quail who heroically escaped from Corregidor to Darwin, Australia as told in a book entitled South from Corregidor by John Morrill. Lyle retired from the US Dept. of Navy as an aerospace engineer.

Visitation will be held on Wednesday, December 27, 2017 from 5PM to 8PM at Arehart-Echols Funeral Home, PA (211 St. Mary's Ave., La Plata, MD). A Funeral Mass will be held on Thursday, December 28, 2017 at 10 AM at Sacred Heart Catholic Church (201 St. Mary's Ave., La Plata, MD). Interment will be January 2, 2018 at 1 PM at MD Veteran's Cemetery (11301 Crain Hwy., Cheltenham, MD). Arrangements by Arehart-Echols Funeral Home.