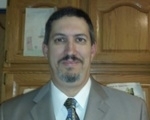 Nicholas "Nick" Jay Folden, 56, of Mechanicsville, MD passed away on December 12, 2017 at his home surrounding by his loving family. Born on December 1, 1961 in Pulaski, VA he was the loving son of Margie J. Eversole Folden of Pulaski, VA and the late Edwin D. Folden. Nick is survived by his loving wife, Rosemary Theresa Folden whom he married on May 6, 1988 in Mechanicsville, MD. He is also survived by his brothers, Sam Folden of Suffolk, VA and Todd Folden of Virginia Beach, VA. Nick is preceded in death by his son Michael Folden.

He graduated from Pulaski High School in 1980 and continued his education at Radford Community College. He moved from Pulaski, VA to St. Mary's County, MD in 1988. Nick was employed as an Instrumentation Technician for Chalk Point NRG in Aquasco, MD for 30 years. Nick enjoyed scuba diving, painting and riding his motorcycle. He was a member of the Rushing Wind Motorcycle Ministry, and Starfleet Academy.

The family will receive friends on Sunday, December 17, 2017 from 2:00 PM to 5:00 PM in the Mattingley-Gardiner Funeral Home, Leonardtown, MD. Arrangements by Mattingley-Gardiner Funeral Home.