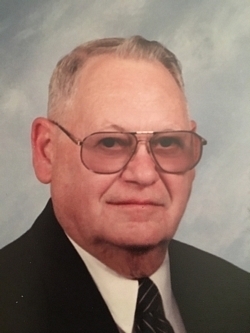 Charles David "Bub" Biggs passed away on December 14, 2017. He was a resident of the Charlotte Hall Veteran's Home. Bub was born in Westernport, MD on August 5, 1930 to Herbert Luther Biggs and Jesse Mae (Miller) Biggs. He graduated from Bruce High School in 1948 and received a degree in Mathematics from West Virginia University in 1952.

Bub taught math at Flintstone High School for a year before being drafted into the Army to serve in Korea. Bub married Joan Louise Lambert of Piedmont, WV on June 30, 1953, and after the war, settled in New Carrollton, MD. Bub worked as an illustrator and then a technical publications manager for several defense contractors. He retired from Litton Amecom in 1992. He and Joan moved back to Westernport, MD upon retirement.

Bub was predeceased by Joan, his parents, his brothers Clarence (Marie), Wallace (Helen), Royland "Cub", Harry, Gene, sister Shirley Whipp (Roy), and brother-in-law David Lambert. He is survived by his sister Mary Biggs, Cumberland, MD, his sisters-in-law Sara Biggs, Cumberland, MD, Dorothy Biggs, Westernport, MD, Verna Biggs, Severna Park, MD, Barbara Lambert, East Kingston, NH, and Christa Cheshire (Gary), Westernport, MD. He leaves behind his children Charles "Chuck" Biggs (Laura), Chesapeake Beach, MD, Carol Shoemaker (Leland), Huntingtown, MD, and Patricia "Patty" Miller, Frederick, MD. He also leaves behind four granddaughters, Kayleigh Shoemaker, Nashville TN, Emileigh Shoemaker, Huntingtown, MD, Natalie Miller and Deanna Miller, Frederick, MD, and many nieces and nephews.

Until recently, Bub was an active member of the Masons. He enjoyed reading, military aviation, working in the yard, feeding the birds, and going for drives. He will be missed by his family and friends. In lieu of flowers a donation may be made in his memory to the Shriner's Hosptials for Children. Arrangements by Rausch Funeral Home.