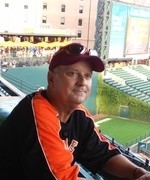 Craig "Killer" Adkins excelled at everything in life, especially LIFE! At a very young age, he was diagnosed with internal organ complications, these issues only mounted as he grew older. Nothing ever stood in his way, medical treatments, assessments of how long he would live, bigger kids, or bigger jobs.

He was talented and dominant at anything with a ball, bat, or glove. Won many trophies for his vehicles, tournaments and prizes for Pool, Shuffle bowl and Corn Hole. No one could out fish, outcast or out catch him. He was always first for, biggest and most fish caught. Sometimes (not many) he LET someone else win. His love for his Harley was incredible to watch, this was his solace. His strive for perfection made him the most recommended Construction Contractor in Southern St. Mary's County. He was always fair and would back up his work for life.

Most of all, Craig was the best person you could meet, honest, helping, funny, caring and man of his word. He has touched many, and all are lucky to have had the opportunity to make his acquaintance, and call him friend. We, the family, have been the most blessed of all. Craig has always been our Angel on earth, now he watches us from heaven. We all have holes in our hearts that we hope heal with time, but we all know that there will never be anyone that will fill his shoes.

The family will receive friends on Monday, December 18, 2017 from 5:00 PM-7:00 PM in the Mattingley-Gardiner Funeral Home, Leonardtown, MD, where a Funeral Service will follow at 7:00 PM in the Funeral Home Chapel with Pastor Dan Moore officiating. Interment will be private. Contributions may be made to Hospice of St. Mary's, P.O. Box 625, Leonardtown, MD 20650. Arrangements by Mattingley-Gardiner Funeral Home.