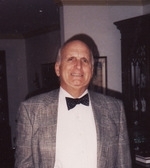 John F. "Jack" Gardiner Jr., 93, of Hollywood, MD formerly from Bethesda, MD and Rockville, MD passed away on December 8, 2017 in Leonardtown, MD surrounded by his loving family. Born September 11, 1924 in Leonardtown, MD he was the son of the late Christine Greenwell Gardiner and John Francis Gardiner, Sr.

On September 30, 1950 Jack married Maria "Lou" Briscoe Gardiner in St. Aloysius Catholic Church in Leonardtown, MD, she preceded him in death on March 7, 2011. Jack is survived by his children; Walter H. Gardiner of Hollywood, MD, Marian G. Fegeley of Hollywood, MD, Maria G. Steppe of Champion, PA, Joseph "Ron" Gardiner of La Plata, MD, 10 grandchildren, and 2 great grandchildren. He was preceded in death by his son John F. Gardiner, III, and his brother William "Billy" Gardiner.

Jack was born in Leonardtown, MD, he departed for a job in Washington, DC for the CIA on February 15, 1951, and moved back to St. Mary's County, MD in December, 1979 until his death in Dec, 2017. He was a graduate of the Charlotte Hall Military Academy 1942, and later earned a Bachelor of Science in 1949 from Georgetown University. Jack served in the United States Army for 2 years and 5 months from July 8, 1943 to April 6, 1946. While serving in the Army, he Served in the Infantry Unit in the European Theater of Operations during World War, II and earned the Victory Ribbon at the end of the war.

Jack was an officer for the Central Intelligence Agency in Washington, DC and Langley, VA, retiring in December, 1979 after 29 years. He was a member of the Knights of Columbus, St, John Francis Regis Catholic Church, Right to life Group, Serra Club of Southern MD, Sotterley Foundation, Greenwell State Park, and St. Clements Island Museum. He volunteered for the St. Mary's Dept. of Social Services office of Aging, Meals on Wheels program.

The family will receive friends on Saturday, December 16, 2017 from 10:00 AM to 11:00 AM in St. John's Catholic Church, Hollywood, MD where a Mass of Christian Burial will be celebrated at 11:00 AM with Father Ray Schmidt officiating. Interment will follow in the church cemetery. Pallbearers will be; Christopher H. Gardiner, Vincent D. Gardiner, Hugh J. Gardiner, Jason Steppe, John F. Gardiner, IV, and William G. Gardiner, Jr. Contributions may be made to St. John's Catholic Church 43950 St. John's Road Hollywood, MD 20636. Arrangements by Mattingley-Gardiner Funeral Home.