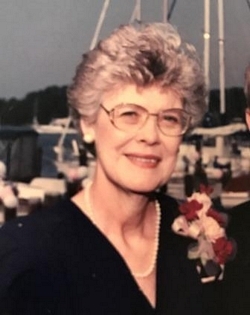 Audrey Bowen Evans, 82 yrs., of Dowell, MD died at home on December 6, 2017. She was born on May 19, 1935 in Prince Frederick, MD to Jesse L. Bowen and Viola Tucker Bowen. She attended the public school system of Calvert County and graduated from Calvert High in 1953. Upon graduation she and several classmates were hired to administrative positions at FBI Headquarters in Washington, DC where they shared an apartment. It was during this time that she met, and married, Edward 'Ted" Evans on June 11, 1955. Upon his discharge from the Marines they returned to Calvert County to begin their life together.

They raised their four children while living in Huntingtown. When Patty, her youngest, entered school Audrey returned to the working world. She was a Secretary / Title Searcher for the law firm of Harkness / Ward. She then was hired as a Deputy Clerk in the office of the Clerk of Circuit Court for Calvert County. She later served as the Clerk of Circuit Court for 20 years, having been elected five times to that position. During those years she was actively involved in many civic and charitable organizations. She enjoyed travel; annual family vacations at the Outer Banks, NC, the Gulf Coast of Florida during winter, seeing the USA in a cross country RV trip, were among her favorites.

She is survived by her husband Ted; sons, Mike Evans (Susan) and Tim Evans (Karen) both of St. Leonard, MD; daughters, Kathy Evans of Lusby, MD, and Patty Castillo (Rory) of Burke, VA; Eight grandchildren and Five great grandchildren. She was preceded in death by her parents, and her sisters, Patricia Dekdebrun and Diane O'Dell.

Pallbearers will be Eric Evans, Charlie Evans, Jesse Evans, Ryan Evans, Pat Buckler, and Donnie O'Dell. Honorary Pallbearers will be Orval Lee Bowen, Bobby Lusby, George Lusby, William Bowen, Eddie Bowen, and Jesse Thurlow. The family will receive friends on Sunday, December 10, 2017 from 2:30-6PM in the Rausch Funeral Home, 20 American Lane, Lusby, MD. Funeral Services will be held on Monday, December 11, 2017 at 11 AM in Trinity United Methodist Church, 90 Church Street, Prince Frederick, MD with Dr. James Swecker officiating. Interment will follow in Asbury Cemetery, Prince Frederick, MD. Memorial Contributions may be made in Audrey's memory to Trinity United Methodist Church, 90 Church St., Prince Frederick, MD 20678. Arrangements by Rausch Funeral Home.