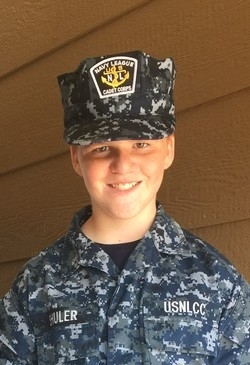 Tyler Jay Shuler, 14, of Lexington Park, MD (formerly of Layton and Willard, UT), passed away in his sleep on December 2, 2017, at his home surrounded by his loving family. He was born on March 25, 2003 in Layton, UT to Michael Jay Shuler of Sandy, UT and Susan Marie Drinkard of Lexington Park, MD.

Though tragically young at death, Tyler squeezed many more years' worth of vitality and experience out of his time than his 14 years of life would suggest. Tyler was born in Utah where he lived for most of his life. By the time he was two, Tyler went around with a near perpetual smirk on his lips and a mischievous twinkle in his eye. If the family had any secrets before he could talk that secret died shortly thereafter. Tyler would gladly talk to any stranger in the store, on a plane, or at a playground and promptly lay the family's soul bare with his life story and the story of as many other family members as he could squeeze into a conversation. Tyler's skills varied wide from imitating flatulence with his limbs to great mathematic ability, and making his parents laugh to freaking out his siblings with his zombie impersonation.

Tyler had his eye set on becoming a doctor and loved his time spent at the Utah Military Academy (UMA) in Ogden where he was a Naval Sea Cadet. He was an avid soccer player, enjoyed gaming with his friends, had a great sense of humor, and enjoyed playing the flute. He was great with his younger cousins, who all adored him and couldn't wait to play with him. Tyler had a special spirit and left a meaningful and unforgettable impression on his family and friends. Though he will be sorely missed, Tyler's memory will be a cherished treasure we will carry for the rest of our lives. Until we meet again dear Tyler.

In addition to his beloved parents Michael and Susan, Tyler is also survived by his siblings: Michael Shuler of Willard, UT, Katlyn Shuler of Willard, UT, Kota Olmas of Sandy, UT and Keean Shuler of Sandy, UT; his grandparents, Jay and Kate Shuler of Willard, UT; his grandmother, Rose Page of Lexington Park, MD; his grandfather, James Drinkard of Anniston, AL; his great grandmother, Mary "Anne" Clark; his step-parents, Priscila (Michael) Shuler of Sandy, UT and Jeff Emmert of Layton, UT; his mother's fiancé, Doug Heiser of Lexington Park, MD; and step-grandparents Amauri Taranto and Marta Molisani.

He is also survived by his aunts, uncles, and cousins: including Michelle Drinkard (children, Jack and Violet), Amy and Lowell Krusinger (children: Brie, Gavin, and Jude), Jennifer Shuler, Devan and Jorianne Shuler (son, Leo), Dustin and Shaylynne Shuler (children: Ember, Oswyn, and Luna), Crystal Shuler, Jordan and Stormy Shuler (son, Desmond), and many extended family and friends. He is preceded in death by his grandfather, Bill Page, great grandfather, Winifred L."Tom" Clark, and uncle, Ben Clark; great grandparents Hal and Carolyn Shuler, and great grandparents Jim and Mary Lou Durrant.

Family will receive friends on Friday, December 8, 2017 from 6:00 to 8:00 p.m. at The Church of Jesus Christ of Latter Day Saints, 7615 S 665 W, Willard, UT 84340. On Saturday, December 9, 2017 family will receive friends from 10:00 to 11:30 a.m., with a Funeral Service celebrated at 12:00 p.m. at The Church of Jesus Christ of Latter Day Saints. Interment will follow at Willard Cemetery in Willard, UT. A Memorial Service will be held at a later date for friends in St. Mary's County. Arrangements by the Brinsfield Funeral Home, P.A. and Myers Mortuary Brigham City, UT.