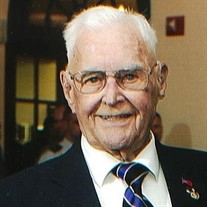 William Dickens Young Jr., 94, of Waldorf, Maryland died on December 2, 2017 at the Charlotte Hall Veterans Home in Charlotte Hall, MD. Fondly known as "Pappy", Mr. Young was born on March 16, 1923 in Fredericksburg, Virginia to the late Katherine and William Dickens Young Sr.

Mr. Young served in the U. S. Navy from 1943 to 1951 during World War II. He was a Landing Craft Driver for six invasions and was combat wounded in June of 1944. He was awarded the Purple Heart. After being Honorably Discharged from the Navy, Mr. Young joined the U. S. Air Force and served for another 14 years. Upon his honorable discharge from the Air Force, Mr. Young worked at the Naval Research Lab as a Machinist Model Maker for 20 years. He was a Lifetime Trustee of the Military Order of the Purple Heart. Mr. Young enjoyed wood working and wood carving, making various items including bird houses.

In addition to his parents, Mr. Young was preceded in death by his wife of 61 years, Doris Jean Young; sisters Joyce Neimann and Patsy Hawker; grandson Jacob Zebley Young. He is survived by his sons William Richard Young and his wife Karen of La Plata, Jeffrey Dickens Young and his wife Terri of Mechanicsville, MD, John David Young and his wife Melanie of Potomac Falls, VA; daughter Jerri Lynn Persinger and her husband Donnie of Waldorf; ten grandchildren and eleven great grandchildren. Arrangements by Raymond Funeral Service.