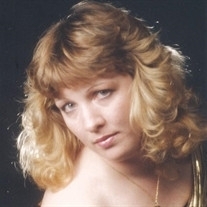 Robin Christine Hamilton departed this life on November 26, 2017 at her home in Waldorf, Maryland. She was born October 18, 1967 in Bethesda, Maryland to Lillian Christine Hamilton and Robert Wayne Hamilton.

Robin was a lifelong resident of Charles County and was educated by Charles County Public Schools, graduating from McDonough High School in 1985. She went on to continue her education, earning an Associate's degree in computer science. Robin loved her family and friends and enjoyed life. She had the biggest heart and expressed her love for everyone with a big hug and a kiss.

Robin's greatest joy in life was her daughter, Jade Jacquez, the love of her life John Knapp, and babysitting her nieces and nephews. Robin loved to write and had been working on completing a book she hoped to publish. Robin was baptized at Accokeek Baptist Church and accepted Jesus Christ as her Lord and Savior.

Robin leaves to cherish in her memory her parents, Lillian Christine Hamilton and Robert Wayne Hamilton; her daughter, Jade Jacquez with Jerry Jacquez; one brother, Robert Wayne Hamilton, Jr. (Christine); two sisters, Rhonda Lynn Hamilton(Bryan) and Renee Hamilton-Robinson(Aubrey); her life partner, John Knapp. In addition, she leaves a host of aunts, uncles, nieces, and nephews, relatives, and friends.

Viewing will be held on December 8, 2017 from 2:00PM until time of service at 4:00 PM at Raymond Funeral Service in La Plata, Maryland. Intermediate will be private. In lieu of flowers, the family asks that donations be made to Robin's daughter, Jade Jacquez. An account has been set up at Navy Federal Credit Union. Arrangements by Raymond Funeral Service.