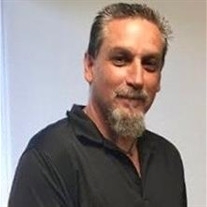 James John "Jimmy" Papanicolas, age 53, of Bealeton, Virginia (formerly of La Plata, Maryland), died November 27, 2017 at Fair Oaks Hospital in Fairfax, Virginia.

Jimmy was a Carpenter with the Carpenters Union 132 and worked that trade for 35 plus years. He was a born-again Christian whose favorite Bible verse was Psalm 40:1, 2, & 3. He enjoyed riding motorcycles and fishing. He was always doing home improvements. He most enjoyed being with his family at family functions.

He is survived by his parents, Nicholas James Papanicolas and Maria Lynn Zelaya Papanicolas; his beloved companion, Jessica; his children, Nicholas James Papanicolas, Zachary James Papanicolas, Nicole Papanicolas, and Miranda Papanicolas; his brothers, John Nicholas Papanicolas (Shari) and Nicholas James Papanicolas (Julie); grandchildren, Aryanah and Alex. He is also survived by a number of nieces and nephews.

Friends received on Friday, December 1, 2017 from 1-3PM with Funeral Service at 3PM at First Baptist Church of La Plata, 9070 Hawthorne Road, La Plata, Maryland 20646, officiated by Rev. Wendell Stokes. Memorials in Jimmy's name are asked to First Baptist Church of La Plata Benevolent Fund. Arrangements by Raymond Funeral Service.