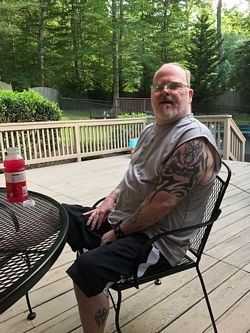 Jeffrey G. Bowersox, 57, of Charlotte Hall, MD passed away on November 25, 2017 at the University of Charles Regional Medical Ctr. in La Plata, MD. Jeff was born on March 25, 1960 in Washington, DC to Richard E. and Mary Faith Bowersox.

Jeff is also survived by his loving wife, Tricia Bowersox, daughters, Melissa Richards (Mike) and Holly Sekuterski (Ryan); son; Kyle Bowersox (Lisa); brother; Gary Bowersox; sisters, Hope Welborn, Gail Jones and Mary Beth Stevens; and grandchildren, Trenton and Alyssa Sekuterski and Madelyn Bowersox.

Jeff served in the US Marine Corps from 1979-1982. He was a sports fan who took pride in coaching his children. He loved the Redskins, Notre Dame and enjoyed playing basketball. Jeff also liked working in his yard. His greatest joy came from being with his family.

The family will receive friends on Thursday November 30, 2017 from 2 to 4 and 6 to 8PM with a funeral service at 7PM at the Arehart-Echols Funeral Home, 211 St. Mary's Ave., La Plata, MD 20646. Interment will be at a later date. In lieu of flowers, donations may be made to St. Ignatius Chapel Point Catholic Church (8855 Chapel Point Rd., Port Tobacco, MD 20677). Arrangements by Arehart-Echols Funeral Home.