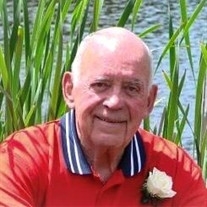 Robert Charles "Bob" Veit, age 79, died on Saturday, November 25, 2017, at his home in Solomons, MD. He goes to be with his parents, Joseph and Lillie Veit, and his two beloved brothers, Richard "Dick" and Don, who we are sure have welcomed him to heaven with open arms.

Bob dedicated his life to his family, his country and his community. After serving proudly in the Marine Corps, Bob became Mayor of Dumont, NJ. He then served two terms as an assemblyman in the legislature for the state of New Jersey. A presidential appointment brought him to Maryland to work for the Department of Transportation and he retired from the Motor Vehicle Manufacturers Association as a lobbyist. After retirement, he and his wife moved to Saint Augustine, FL, where they were very active in the Republican Party for St. John's County and Bob served as treasurer.

Recently, Bob and Joan moved to Solomons, MD to be closer to family. Married for 55 years, he is survived by his wife, Joan, his children Sandra, Andrea and her husband Robert, Laura and her husband John, his loving grandchildren Charles, Thomas and his wife Jenny, Robert and Joseph, Courtney and Tony, as well as two beautiful great grandchildren, Samantha and Jayden. His brother, Dick's, family was always held close to his heart and he loved them all as if they were his very own.

Bob always said that each person needs to leave the world a little better than they found it, and he did that every day of his life. Bob was a strong, loving and intelligent man who always did his best to do the right thing. He was a master of diplomacy with strong ethics and convictions, the kind of man who was always willing and able to step up to help his family, his country and his friends.

He loved beautiful music and was an artist who created wonderful sculptures and poetry. He researched all of our family history and has left behind a legacy of family love that cannot be matched. He was a good man, a loving and faithful husband, an amazing father, and a wonderful uncle, a perfect grandfather and great-grandfather.He will be greatly missed. Arrangements by Lere Funeral Home.