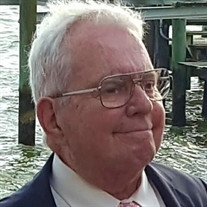 Floyd Doyle, 76, of La Plata, Maryland exchanged this mortal life for that of joyful immortality, resting from the pains and sorrows of this life on November 23, 2017. He was the son of the late Phillip Jesse Doyle and Maude Virginia Ashley, born on October 16, 1941. He entered this world in Salisbury, Maryland, was raised primarily on the Eastern Shore of Maryland and moved to La Plata in the fall of 1970 where he remained the rest of his life.

Serving our country honorably from January 1960 through December 1962, Floyd was an Information Specialist in the U.S. Army stationed in Frankfurt, Germany. Upon returning to the States, he agreed to go on a blind date where he met, fell in love with, and 3 months later married, Peggy Jo Lloyd of Salisbury, Maryland. They began their wedded life together on April 27, 1963 and remained wholly faithful to each other for 52 years until the time of Peggy's death on October 13, 2015.

Together, Floyd and Peggy had two sons, Kenneth Floyd Doyle (Janet) of La Plata, Maryland, Phillip Christopher Doyle (Andrea) of Leesburg, Virginia and a daughter Dolly Virginia "Jeni" Irwin (Dean) of Charlotte Hall, Maryland. They loved and cherished 13 wonderful "blessings", as "Granny" would call them, also known as grandchildren, 2 of which were not long on this earth: twins Erin Elizabeth Doyle and Sarah Virginia Doyle who passed away shortly before birth in early December 1995.

Floyd is survived by his brothers, P. James Doyle (Joanne), Lloyd Doyle (fraternal twin to Floyd), Robert W. Doyle (Pat), Elbert M. Doyle, David M. Doyle (Hope) and by one sister Joyce E. Mays (Ray). He had a close brotherly friendship with his brothers-in-law W. Kenneth Lloyd and Ricaud L. Lloyd, who are both deeply saddened at his passing. In addition, many nieces and nephews will greatly miss their Uncle Floyd.

A man of deep, abiding faith, Floyd was a devoted follower of Christ who faithfully passed on to his children and grandchildren the reality, meaning, and purpose of God in our lives as well as the truth of the singular salvation offered by trusting in God's only Son, Jesus. His beliefs were an expression of what he knew to be the truth of God's word, the Bible, and a vital component of the core of his being.

Floyd served for over 47 years as a member of the First Baptist Church of La Plata. For nearly all of those years, he served faithfully as a deacon until recently being awarded the honor of Deacon Emeritus as his health prevented him from continuing to serve in the role actively. Floyd was instrumental in the planning and design of the current facilities as the Chairman of the Building Committee. He served in various other roles such as Treasurer, Teller Chairman, and at one time even as a member of the Choir.

Most of Floyd's career was within the banking industry, though one of his first roles after the military was as a repo man for an insurance company. Floyd was the Branch Manager of several local bank branches over the years and towards the end of his professional career worked as a Mortgage Banker and Insurance Salesman.

Early in Floyd's adult life, he enjoyed competitive league bowling, church league bowling and softball, and was an umpire for several years. Golf was the sport that Floyd particularly enjoyed later in his life and he got out as much as he could playing often with his brothers, his sons (especially Chris), as well as other friends and family. Watching sports and playing cards were lifelong interests that Floyd enjoyed often.

Services to remember, honor, and celebrate Floyd's life will be held at 1 pm on Saturday, December 2, 2017 at the First Baptist Church of La Plata, 9070 Hawthorne Road, La Plata, Maryland with Pastor Wendell Stokes officiating. Visitation will be from 12 to 1 pm. Interment will follow at Trinity Memorial Gardens in Waldorf, Maryland. Memorial gifts to the First Baptist Church of La Plata are welcome. Arrangements by Raymond Funeral Service.

Pallbearers will be the young men "Granddaddy" was proud to call his grandsons: Brendan Kenneth Doyle, Phillip Cameron Doyle, Tyler Matthew Irwin (engaged to Taylor Whitcraft), Justin Drew Irwin, Benjamin Jesse Doyle, Chad Michael Irwin, Patrick Christopher Doyle, Logan Timothy Irwin and Jonathan Grey Doyle. Honorary pallbearers will be Floyd's beautiful granddaughters: Hannah Grace Doyle and Ashleigh Joan Grigsby (Orban) who is carrying Floyd and Peggy's first great-grandchild, a boy we all expect to meet in early February 2018.