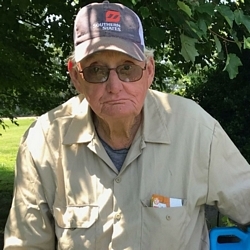 Kenneth Augustus Turner Sr., 87, of Newburg, MD passed away on November 24, 2017 at the MD Charles Regional Medical Center. Kenneth was born in Charlotte Hall, MD on November 6, 1930 to the late William W. Turner and the late Carrie S. Turner. He is survived by his wife, Mary Helen Goldsmith Turner; son, Kenneth Augustus Turner, Jr. (Karen); daughter, Mary Lee Long Joseph; brother, Julian Delmar Turner; grandchildren, Jessica Lynn Suiter (Jason) and Jennifer Lee Long (James); great-grandchildren, Cody Travis Garner, Brayden Halloran Suiter, Nicholas Alexander Garner and Addison Victoria Suiter and one special nephew, Bubba Goldsmith.

Kenneth was a lifetime resident of Charles Co. He retired from St. Elizabeth's Hospital as a Groundskeeper and was a member of Christ Episcopal Church-Wayside, where he and Mary married in 1962. He loved farming, rabbit hunting and his dogs and cows.

Visitation will be held from 5PM to 8PM (with Prayers at 7PM) on Tuesday, November 28, 2017 at Arehart-Echols Funeral Home, PA (211 St. Mary's Ave., LaPlata, MD). A Funeral Service will be held on Wednesday, November 29, 2017 at 11AM at Christ Episcopal Church-Wayside (13050 Rock Point Rd., Newburg, MD). Interment to follow the Funeral Service in the Church Cemetery. In lieu of flowers, the family requests donations be made to the Humane Society of Charles Co. (PO Box 1015, Waldorf, MD 20604. Arrangements by Arehart-Echols Funeral Home.