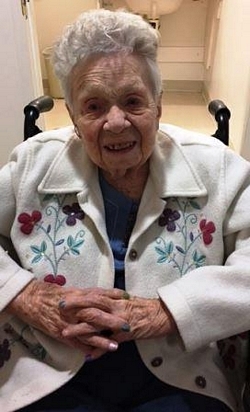 Gwendolyn Hoke "Gwen" Northcutt, 95, of Solomons, MD passed away on November 21, 2017 at her residence. Born November 22, 1921 in Hopewell, VA she was the daughter of the late Robert K. Hoke and Alma (Barbee) Hoke. Gwen graduated from Cary High School in Cary, NC and married the late Laurence E. Northcutt on November 25, 1943.

She was a Committee Management Assistant of the National Institute of Allergies and Infectious Disease at NIH, retiring in 1979 after many years of service. Gwen was involved in Eastern Star and Mt. Olivet Church and was on various committees at Asbury including Dining Services and the Low Vision Group.

Gwen is survived by her son, Ronald Northcutt of Upper Marlboro, MD. In addition to her husband, she was preceded in death by her daughter, Linda McClure and her brother, Robert Hoke.

Family will receive friends on Thursday, November 30, 2017 from 10:00 a.m. until 11:00 a.m. with a Funeral Service conducted by Rev. Charles Harrell and Rev. Linda Motter to follow at 11:00 a.m. at the Asbury-Solomons Auditorium, 11100 Asbury Circle, Solomons, MD 20688. Interment will be on Friday, December 1, 2017 at 2:30 p.m. at Parklawn Memorial Park Cemetery, 12800 Veirs Mill Road, Rockville, MD 20853.

Memorial contributions may be made to Olivet United Methodist Church, 13575 Olivet Road, Lusby, MD 20657 or Calvert Hospice, P.O. Box 838, Prince Frederick, MD 20678. Arrangements by Rausch Funeral Home.