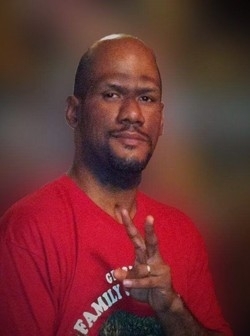 On Sunday, November 19, 2017 George Leo Dyson Jr. gained his wings and joined his parents in heaven. George, the only child of the late George Leo Dyson, Sr. and Agnes Loretta (Chase) Dyson, was born on January 10, 1976 in Leonardtown, MD. George, a lifelong resident of St. Mary's County, Maryland. He was a faithful member of St. Joseph's Catholic Church, Morganza, MD. Here is where you would find him every Sunday praying for family and friends; a place where he found peace and joy.

George was educated in the St. Mary's County School system, graduating from Chopticon High School in 1995. He continued his education at Lincoln Tech graduating in 1996 with a certificate in HVAC. After working numerous jobs, in 1998 he landed his dream job at Washington Gas & Light as a Service Technician. He remained in this position until November 2005 when he was promoted to Construction Technician. Unfortunately, the day before he was due to start his new position; George was involved in a serious ATV accident where he suffered a traumatic brain injury and was not expected to survive through the first week of being in a coma. Going through thirteen months of therapy, George bounced back defying the odds and overcoming what doctors said should have been a tragic ending.

After being together for eleven years, George married the love of his life Amanda Thompson on August 25, 2007. This day was not only special to George and Amanda but also for his parents in 1971. From this union three children were born. George enjoyed many activities including driving motorcycles and ATVs, fishing, hanging with his boys and most of all providing and loving his family. One of George's favorite days of the week was Sunday so that he could attend mass at St. Joseph's Catholic Church and going to Wawa for his cup of coffee and a doughnut. Sunday afternoons were usually spent watching and rooting on his favorite team, The Washington Redskins. George will always be remembered for his one-liners, funny sense of humor, being the life of the party, his insatiable smile and most of all his huge heart. One of George Jr.'s favorite quotes was "Mom and Dad got it perfect the first time, why keep trying."¬Ě

George was preceded in death by his parents George Leo Dyson Sr. and Agnes Loretta Dyson. His grandparents Mary Louise Chase Hebb, Joseph Hebb, Paul Vincent Somerville, Mary Elizabeth Dyson and Francis Halsey Green and a special uncle John Dyson. He is survived by his loving wife Amanda, children Kristofer Thompson, Kalease Dyson and George Dyson, III, all of Mechanicsville, MD. Grandmother Imogene Somerville of Leonardtown, MD. Aunts: Barbara Dyson of Baltimore, MD, Gloria Dyson of Mechanicsville, MD, Pamela Hebb of Waldorf, MD, Catina Hebb of Sunnyvale, CA , Paula Thomas(Deon) of Newburg, MD, and Paula and Shawn Somerville of Loveville, MD. Uncles: William Dyson (Mechanicsville, MD), Michael Chase (Delora) of Lexington Park, MD, and Brian Fenwick (Angela) of Bushwood, MD. In-Laws Louis "Buddy"¬Ě Thompson (Debbie) of Avenue, MD and Eileen Beitzell of Mechanicsville, MD. Sisters-In-Law Michelle Thompson (Kelly) of Abell, MD and Penny Thompson (Mike) of Clements, MD. Brother-In-Law Louis Marshall Thompson of Mechanicsville, MD. Godchildren Corrindi Hebb of Lexington Park, MD and Natasia Herbert. As well as a host of great aunts, uncles, nieces, nephews, special cousins and friends too numerous to mention by name.

Over the last two years, George Leo Dyson, Jr. has been the epitome of strength. His strong will and determination to BEAT cancer, is what has brought him thus far. From the first diagnosis, George was given six months to live. That was over two years ago. He not only walked by faith, he knew that if he gave up, then that would cause those around him to give up. He was not going out like that. We salute you GEORGE LEO DYSON, JR. The strongest and bravest man we know. Your parents would be so proud of their boy, you have done them proud!

Family will receive friends on Monday, November 27, 2017 for visitation from 8:00 am-9:30am at Brinsfield Funeral Home, 22955 Hollywood Road, Leonardtown, MD 20650. A Mass of Christian Burial will follow at 10:00 am at St. Joseph's Catholic Church, 29119 Point Lookout Road, Morganza, MD 20660. Interment will follow at Queen of Peace Cemetery, 38888 Doctor Johnson Road, Mechanicsville, MD 20659. Memorial contributions may be made to Hospice of St. Mary's, P.O. Box 625, Leonardtown, MD 20650, Hollywood Volunteer Rescue Squad, P.O. Box 79, Hollywood, MD 20636 and St. Joseph's Catholic Church, P.O. Box 175, Morganza, MD 20660. Arrangements by the Brinsfield Funeral Home, P.A.