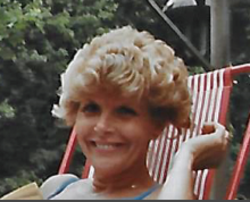 Thelma Jean Crine, of Mechanicsville, Maryland passed away November 16, 2017, at MedStar St. Mary's Hospital in Leonardtown, Maryland with her loving husband at her side. She was born December 15, 1950 in Morgantown, West Virginia to the late Clayde B. Rogers and Thelma Marie Cottrell.

Jean was not only a stay at home mother, but she also worked as a beautician and a sale rep. She spent many years caring for others to include the four legged kind. Her other hobbies included gardening, sewing and crafts, baking and cooking. She was also a volunteer with the St. Mary's County Humane Society. She was a loving and devoted wife, mother and grandmother, and was very close to all those around her.

John was in the Army, stationed at Fort Hood, Texas "I walked into Big Daddy's Restaurant in Kileen, Texas and it only took one look and she was mine. I was blessed with 49 years of marriage to my best friend" John Crine.

Jean is survived by her husband, John Crine of Mechanicsville, Maryland; her children Jennifer Crine of Hollywood, Maryland, Teddy Ragan of Mechanicsville, Maryland, James Ragan of Mechanicsville, Maryland; her grandchildren Brett Michael Crine of Chesapeake Beach, Maryland and Lauren Jean Ragan of Calvert County, Maryland; her daughter-n-law Stacy Crine of Chesapeake Beach, Maryland. In addition to her parents, she is also predeceased by her son, Kevin Crine.

Family will receive friends on Tuesday, November 28, 2017 from 5:00 p.m. to 8:00 p.m. at Brinsfield-Echols Funeral Home in Charlotte Hall, Maryland. The Funeral Service will be held on Wednesday, November 29, 2017, at 11:00 a.m. at the funeral home to be continued at Trinity Memorial Gardens, 3221 Mattawoman Beantown Road, Waldorf, Maryland 20601. Memorial contributions may be made to the Mechanicsville Volunteer Rescue Squad, P.O. Box 15, Mechanicsville, Maryland 20659 or the Mechanicsville Volunteer Fire Department, P.O. Box 37, Mechanicsville, Maryland 20659. Arrangements by Brinsfield-Echols Funeral Home.