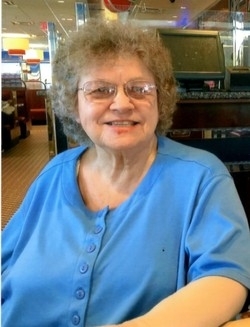 Pauline Goldie Swaim, 74, of Leonardtown, MD passed away November 18, 2017 at MedStar St. Mary's Hospital surrounded by her loving family. She was born on June 25, 1943 in Baltimore, MD to the late Paul Owen Pumphrey and Lillian Spinks Pumphrey.

Pauline was a 1962 graduate of Berkley Springs High School in West Virginia. On February 22, 1963, she married her loving husband, Douglas Alvin Swaim, Sr. in Hedgeville, WV. Together they celebrated over 54 wonderful years of marriage. She spent over 24 years as a loving bus driver for many students in the Prince George's County public schools. She was dedicated to her family and retired to care for her grandchildren. She enjoyed Conway Twitty concerts and later her trip to Tennessee to see his home. ÂShe also loved her cruise to the Bahamas with her entire family. She was an excellent cook with some of her specialties being chicken wings and lasagna. She had a beautiful collection of lighthouses.

In addition to her beloved husband, Pauline is survived by her son, Douglas A. Swain, Jr. (Mary) of Hollywood, MD; her grandchildren, Kaitlyn Swaim and Cory Swain; her sister, Virginia L. "Ginny" Householder (John) of Falling Waters, WV; and many extended family and friends. In addition to her parents, she is also preceded in death by her stepfather, Raymond VanZandt.

Family will receive friends on Saturday, November 25, 2017 from 2:00 to 5:00 pm, with a prayer service at 4:00 p.m., at Brinsfield Funeral Home, 22945 Hollywood Road, Leonardtown, MD 20650. Interment will be private. In lieu of flowers memorial contributions may be made to the American Cancer Society, 405 Williams Court, Ste.120, Baltimore, MD 21220. Arrangements by the Brinsfield Funeral Home, P.A.