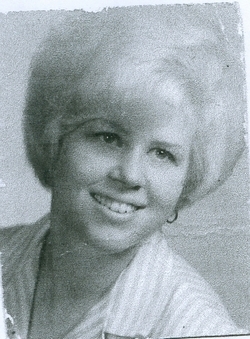 Sheila Marie Gilbert, 69, of La Plata, MD passed away on November 15, 2017. Sheila was born in Washington, DC on January 25, 1948 to the late Francis E. Reidy, Sr. and the late Mary M. Reidy. She is also predeceased by her husband, the late Russell C. Gilbert.
Sheila leaves behind to cherish her memory, sons, Charles E. Gilbert (Lori) of Charlotte Hall, MD, Christopher M. Gilbert of La Plata, MD and Daniel S. Gilbert (Kristi) of La Plata, MD; daughter, Irene M. Gilbert Hite (Duncan) of La Plata, MD; brothers, Francis E. Reidy, II (Cheryl), Timothy P. Reidy (Nicole) and Michael R. Reidy; sisters, Sharon Reidy Maxted, Mary Carroll Baker and Madelyn Reidy Whittaker; grandchildren, Russell R. Gilbert (Brittany) of California, MD and Charles R. Gilbert (Ryan) of Charlotte Hall, MD.

Shelia met the love of her life, Russell, at Harrigan's. Together they raised four children. She loved white gladiolas, white carnations and white snowballs. She enjoyed learning new things, particularly old modern day living and anything to do with gardening. Sheila also loved her family more than life and spending time with family and friends was her greatest joy. Services are private. Arrangements by Arehart-Echols Funeral Home.