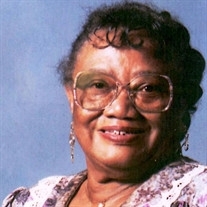 Mary Madeline Ford was called home to be with our Lord and Savior, Jesus Christ, on Saturday, November 11, 2017. Madeline (as she was known by those who loved her) was born in Charles County, Maryland on April 28, 1921 to the late Walter and Cora (Yates) Thomas. She was raised and attended Charles County Public Schools. She worked 14 years at Southern Maryland Cleaners before retiring full time to do what she loved, being a wife and mom.

Madeline loved good food and socializing and enjoyed shopping and playing cards with friends. She had a wonderful smile that could light up a room and from the moment you met her she considered you family. Her house was the place to be. Her home was always open and there was always food and fellowship waiting regardless of time of day or night. She had an uncanny ability to remember the smallest detail of events as far as anyone could remember. She still had that great memory and ability to tell a story until her final days. Along with her sister Martha, she often chartered bus trips for friends and family to places such as Virginia, Georgia and Pennsylvania Dutch Country, her favorite.

Madeline was preceded in death by her husband, James E. Ford; her parents, Walter and Cora Thomas; her sister, Martha R. Thomas; her brothers, Francis Aubrey Thomas and Joseph Ralph Dyer; and her sister-in-law, Rose Lee Thomas. She is survived by her son, James Leroy Thomas; her sister-in-law, Gladys Dyer; four generations of nieces and nephews; and a host of cousins and friends who brought great joy to her later years.

Friends received on Monday, November 20, 2017 from 9AM until time of Mass of Christian Burial at 10AM at Sacred Heart Catholic Church, 201 St. Mary's Avenue, La Plata, Maryland 20646 and Interment at 2:30PM at Maryland Veterans Cemetery, 11301 Crain Highway, Cheltenham, Maryland 20623. Memorials in Madeline's name to Sacred Heart Catholic Church, PO Box 1390, La Plata, Maryland 20646. Arrangements by Raymond Funeral Service.