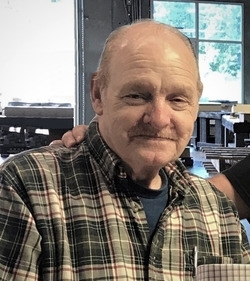 Bruce "Pops" Whetstine, age 77, passed away peacefully at his home on November 13, 2017 in Helen, Maryland. Bruce was born September 6, 1940 in Washington DC. His father, Olice, was a trolley car operator and his mother, Mary W., a homemaker. Bruce touched many lives and will be remembered for his ability to talk to anyone and make them feel special.

After a brief time in the Army, he began his working career as a mechanic and bus driver at Atwood Bus Co. He then trained to become a Heavy Machinery Mechanic for Hutchinson Bros Construction. Shortly after meeting Mary Lynn, they wed and moved with her two children, Ginny and Jimmy, to Forest Heights, MD. Soon after, they were blessed with a set of twins, Dorothy and Daniel. Bruce then began his career as a Building Engineer in D.C. A few years later they moved to St Mary's County to provide their young family access to a better Educational System and a rural home life. He retired after more than 30 years as a Building Engineer.

Retirement did not suit Bruce, so he asked his son if he could be of any use to him at Hawkins Glass, which he obliged. He spent the next 10+ years working beside his son, and making more friends. He so enjoyed being "one of the guys" and sharing his wisdom with them. He was routinely sought for his advice on wide array of subjects. Things that brought him joy were his beautiful home, his children's success, and his '57 Chevrolet pickup, that he and his son worked on together. He and Mary Lynn were proud members of the Mechanicsville Optimist's Club as well.

Bruce is survived by his wife, Mary Lynn; his daughters, Dorothy Vallandingham, of Mechanicsville, MD and Ginny Perry, of Bowie, MD; and his son, Daniel (Michelle) Whetstine, of La Plata, MD. He is also survived by his sister, Carol (Emil) Russelman, of New Jersey and his younger brother, Joseph Whetstine (Andrea), of Clinton, MD. He is preceded in death by his parents, Olice and Mary Whetstine, of Culpepper, VA; his brother, Vernon Whetstine, of Waldorf, MD; his brother Jack Whetstine, of Culpepper, VA; and his stepson Jimmy Perry of Baltimore, MD.

A Life Celebration Visitation is scheduled for November 18th, at Brinsfield-Echols Funeral Home in Charlotte Hall, MD from 2-4PM with a service at 4PM. All are welcome to attend and celebrate Bruce's life. Flowers can be sent to the funeral home and donations can be made to the Mechanicsville Optimist's Club, P.O. Box 301, Mechanicsville, MD 20659. Arrangements by Brinsfield Funeral Home.