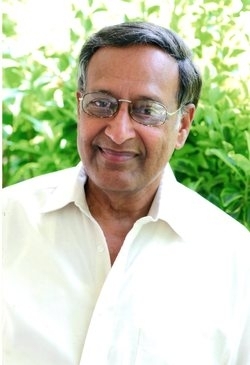 Dr. Kannarkat Pappachen Verghese, 81, of Leonardtown, MD passed away November 13, 2017 at his home surrounded by his loving family. He was born on November 10, 1936 in India to the late Kannarkat J. Pappachen and Prestina Chalissery.

Dr. Verghese dedicated over 58 years of loving care and professionalism to many patients as a medical doctor specializing in allergy and immunology until his retirement in August 2014. On July 15, 1968 he married his beloved wife, Dr. Annie P. Verghese in India. They celebrated over 49 wonderful years of marriage. His hobbies included playing tennis, swimming, gardening and travelling with his wife throughout the world. He was a devoted family man, and deeply loved his wife, children, grandchildren, siblings, and nieces and nephews.

He was a member of St. Aloysius Catholic Church, Knights of Columbus, Indian American Catholic Association, Association of Kerala Medical Graduates, The American Academy of Allergy, Asthma & Immunology, St. Mary's County Medical Society and the Kerala Association of Greater Washington where he served as the Past President.

He is survived by his beloved wife, Annie, and their children: Dr. George Verghese (Rosemary) of Arlington, VA, Reverend David Verghese of Annapolis, MD, and Nina Verghese of Washington, D.C.; his grandchildren, Philip and Gabriella Verghese, both of Arlington, VA; and many extended family and friends. In addition to his parents, he is also preceded in death by his son, Dr. Philip Verghese.

Family will receive friends on Sunday, November 19, 2017 from 4:00 to 6:00 p.m., accompanied by a prayer service, at Brinsfield Funeral Home, P.A., 22955 Hollywood Road, Leonardtown, MD 20650. A Mass of Christian Burial will be celebrated by Reverend David Verghese, Reverend Jonathan Phillips, and Reverend David Beaubien on Monday, November 20, 2017 at 11:00 a.m., at St. Aloysius Catholic Church, 22800 Washington Street, Leonardtown, MD 20650. Interment will follow at Charles Memorial Gardens in Leonardtown, MD.

Serving as pallbearers will be George Verghese, Joy Kannarkat, Thomas Kannarkat, Tony Kannarkat, Navin Manjooran and Pappachan Francis. Memorial contributions may be made to the Philip Institute for Relief and Services (PIFRAS), 41040 Paw Paw Hollow Lane, Leonardtown, MD 20650. Arrangements by the Brinsfield Funeral Home, P.A.