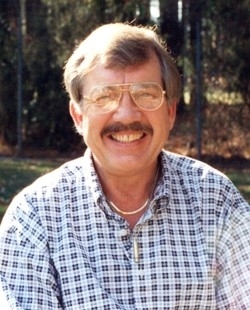 James A. Nagy, an aerospace engineer who specialized in spacecraft vibrations, died on Friday, November 10, 2017 at Cedar Lane Senior Living Center in Leonardtown, MD. He was 89 years old.

Jim retired from the National Aeronautics and Space Administration in 1978 after 17 years at the Goddard Space Flight Center in Greenbelt, MD. His first six years were spent measuring vibrations on NASA's launch vehicles and he successfully made vibration measurements that had previously been elusive. He was then involved with the spacecraft vibration testing where his research showed the damaging effect of a vibration measurement problem called base strain that had been plaguing the testers for decades. Jim also led a team that solved a vibration problem on the Apollo program.

Jim began his career at The Glenn L. Martin Aircraft Company in 1955 where he was involved with the static testing of Martin aircraft and the Titan missile. He later transferred to the vibration lab where he tested missile systems including the Vanguard. He also tested the SNAP nuclear generator. Jim worked as a contractor measuring helicopter and aircraft vibrations from 1984-1992 at the Naval Air Warfare Center Aircraft Division at Patuxent River, MD. Jim authored five NASA technical publications and his vibration measurements work on the Thor-Agena rocket was featured in the November 12, 1962 issue of MISSILES AND ROCKETS.

Jim grew up in McKees Rocks, PA and was a mechanical engineer graduate of the University of Pittsburg. He had developed his love of aircraft early in life and joined the Navy during World War II to become an aircraft mechanic. Jim was active for many years with the Cub Scout and with church teen groups. He was a rock climbing enthusiast and climbed the Grand Teton Mountains in Wyoming and the famous Matterhorn in Switzerland. He enjoyed woodworking as a hobby and as a craft business. Jim was a supporter of many animal rescue groups. He donated much time and money to saving and helping animals around the world including tigers and elephants which he dearly loved. Jim also bred and raised many westies with his wife Pat and had many that were successful champions. Later in life Jims love would be his dog "Chico" which provided him with unconditional love and companionship.

Jim is survived by his three children; Susan McCabe of MD, Stuart Nagy of FL, Christopher Nagy (Christine) of NC and 5 grandchildren and 2 great grandchildren, his friend Marie Halsey & family of MD and his friends at the Cedar Lane Senior Living Center. Jim's wife Patricia Nagy predeceased him in 2012. Arrangements by the Brinsfield Funeral Home, P.A.