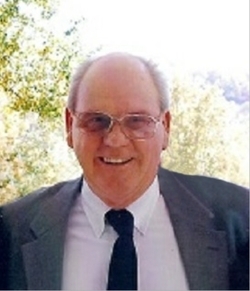 Charles Edward Aud Sr., 71, of Great Mills died Nov. 10, 2017, at Washington Hospital Center in Washington, D.C. Charles was born Jan. 12, 1946 in Great Mills, the son of Matthew Clarence Aud and Dorothy Schindler Aud. He attended Great Mills High School and worked during his younger years for Winters Sheet Metal, Cullison Sheet Metal and J&T Homes before starting his own company in June 1972. Mr. Aud was the founder and president of Great Mills Heating & Air Conditioning. He also enjoyed working on the family farm on Flat Iron Road, where he grew tobacco, soybeans, corn, and more recently raised feeder cattle. In addition to being a home builder, he had various other business ventures. He was rarely seen without his canine sidekick, Phineas.

Charles took great joy in making two trips to Haiti to help with recovery efforts after the 2010 earthquake. During his first trip to Haiti with a local church group he helped rebuild a school. During another trip there a few years later, he helped organize and plan the rebuilding of a retaining wall in an island village. He was an avid card player, enjoying pitch games with a regular group of friends on Monday nights and playing in the occasional pitch tournament. He participated in a Bible study at Lexington Park United Methodist Church.

Charles was preceded in death by his parents and his younger brother, U.S. Army SP4 Francis "Bubby" Matthew Aud, who was killed in Vietnam in 1970. He is survived by his fiancée, Agnes "Aggie" Lacey of Avenue; children, Charles "Boo" E. Aud Jr. and wife, Jody, of Mount Airy, George Matthew Aud of Hanover, Lisa Marie Aud of Leonardtown and Amy Michelle Aud of Great Mills; sister, Mary Jane Corl of Harrisburg, Pa.; grandchildren, Madison, Hannah, Ryan and Emily Aud; great-grandchildren, Aliyah Russell and Marley Aud; uncles, Father Robert "Frank" Schindler of Tampa, Fla., and John Aud of Park Hall; aunts, Sister Carrie Schindler of Baltimore, Mary Mandzak of Washington, D.C., Dorothy Aud of Waldorf and Edna Trossbach of Browns Mills, N.J.; first wife, Katherine Mattingly Aud of Leonardtown; and several nieces and nephews.

Family will receive friends Thursday, November 16, 2017 from 5:00-8:00 p.m. with prayers at 7:00 p.m. at Brinsfield Funeral Home, P.A., 22955 Hollywood Road, Leonardtown, MD 20650. A Mass of Christian Burial will be held Friday, November 17, 2017 at 10:00 a.m., at Holy Face Church, 20408 Point Lookout Road, Great Mills, MD 20634. Interment will follow in the church cemetery. Arrangements by Brinsfield Funeral Home.

Pallbearers will be employees of Great Mills Heating & Air Conditioning Kirk Kuginskie, Alex Nunez, Dustin Carter and Steven Doughty, godson Chris Breck and Mike Bowes. Honorary pallbearers will be John Aud, Tommy Garner, Joseph "Bubby" Knott, Charlie Wise, Gene Kopp, David Adams, Joe Slade and Darrell Goode. In lieu of flowers, the family suggests memorial contributions be made to the American Lung Association, 1150 18th St. NW, Washington, DC 20036. Arrangements by the Brinsfield Funeral Home, P.A.