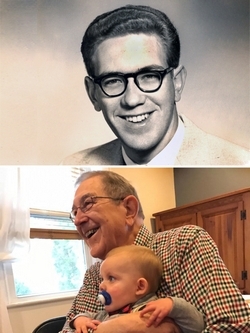 Willard Bruce Brown, 84, of Millsboro, Delaware passed away Friday, November 10, 2017. Son of the late Lloyd Brown, Sr., and the late Alice Mildred Brown of Leonardtown, Maryland, Willard was born January 23, 1933 in Leonardtown. He attended Great Mills High School then Drew University in Madison, New Jersey where he met his wife of 58 years, née Jane Martin Bowker. After receiving his bachelor of science from Drew, he and Jane moved to Lexington, Kentucky, where he earned his doctorate in chemistry from the University of Kentucky.

From there, they moved to Dayton, Ohio, where he was employed by Monsanto Laboratory. He received an offer to work for the U.S. Nuclear Regulatory Commission (formerly the Atomic Energy Commission), where he remained for 23 years, ultimately serving as the chief of nuclear safeguards, until his retirement in 1995. He and Jane then lived happily in Alpine Lake, West Virginia, playing bridge, traveling, listening to jazz and classical music, reading, doing crossword puzzles, and rooting for the Redskins. After Jane was diagnosed with Alzheimer's disease, she and Willard moved to Delaware. Willard cared for her lovingly until her passing in 2013.

Willard is remembered by four daughters and two sons-in-law: Nancy Deal of Oakland, Maryland; Judith and Keith Guerrin of Beaufort, North Carolina; Wendy and Anthony Janda of Eagle Bay, New York; and Phoebe Brown of Baltimore, Maryland. He is also mourned by his three granddaughters and counted among his blessings the opportunity to meet two great grandchildren before he passed. Granddaughter Audrey Edmonds Stepp, her husband David, and their daughter Elise live in Riverdale, Maryland; granddaughter Ruby Samantha Edmonds Sabina, her husband Mark, and their son Logan live in Mount Rainer, Maryland; and granddaughter Shawn Rebecca Deal lives in Western Maryland. His brother Jerry (Lloyd Brown, Jr.) of Leonardtown, Maryland, passed away in February 2017.

At his request, Willard's ashes will be mixed with his wife's and interred at St. Georges Episcopal Church in Valley Lee, Maryland with a plaque that reads, "Comingled in death as they were in life." A memorial service will be held on a date to be determined in the spring of 2018. The family requests that in lieu of flowers or cards, donations be made to the Alzheimer's Foundation or the National Foundation for Rare Disorders (earmarked for acquired hemophilia, if possible) in memory of Jane and Willard Brown.