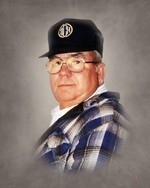 Donald Henry Carroll, "Donnie", 78, of Dameron, MD passed away on November 8, 2017 at his home. Born on November 15, 1938 in Dameron, MD, he was the son of the late Viola Augusta Ridgell Carroll, and Lloyd Thomas Carroll. Donald is survived by his wife Rose M. Carroll whom he married in St. George's Catholic Church Valley Lee, MD on December 2, 1961. He attended St. Michaels Catholic School. He was a lifelong St. Mary's County, MD resident. Donald was the Owner/Operator of Don's Sunoco in Lexington Park, MD from 1965 to 2000, retiring in 2000.

Donald is survived by his siblings; Peggy Vallandingham of Ridge, MD, Mary Ann Norris (Emerick) of St. Inigoes, MD, Elaine Carroll of Warrenton, VA, Charles Carroll (Joanne) of Myrtle Beach, SC, Sandra Gerek of Park Hall, MD, Ed Carroll (Diane) of Lexington Park, MD, Tony Carroll (Marie) of Ridge, MD, sister in law Salinda Mae Carroll. He was preceded in death by his siblings; Barbara Smith, Frankie Carroll, Roger Carroll, Joan Cochran, brothers in laws; Sam Vallandingham, Ron Yukum, and Mike Gerek and Corky Cochran.

The family will receive friends on Thursday, November 16, 2017 from 5:00-8:00 PM with prayers recited at 7:00 PM in St. Michael's Catholic Church, Ridge, MD. A Mass of Christian Burial will be celebrated on Friday, November 17, 2017 at 11:00 AM in St. Michael's Church with Father Peter Giovanoni officiating. Interment will follow in St. James Catholic Cemetery, Lexington Park, MD. Pallbearers will be: Jimmy Hall, Tommy Hall, Jr, J.T. Thompson, Donnie Thompson, Joey Carroll and Ed Carroll. Contributions may be made to the Ridge Vol. Fire Dept. P.O. Box 520 Ridge, MD 20680 and Ridge Vol. Rescue Squad P.O. Box 456 Ridge, MD 20680. Arrangements provided by the Mattingley-Gardiner Funeral Home, P.A. Leonardtown, MD.