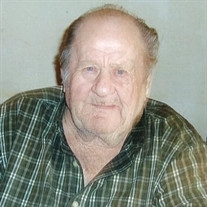 Thomas Richard Moreland, age 83, of Waldorf, MD died on November 9, 2017 at the University of Maryland Charles Regional Medical Center in La Plata. Thomas was born on February 28, 1934 in Waldorf, MD. He was the son of the late Ernest and Bessie Moreland. In addition to his parents, Thomas was preceded in death by his sisters Adele, Pearl, Anne, Elsie, Mary, Dorothy and Rosalee; his brothers Francis, Louise, Joseph, Ernest Jr. and Bill. He is survived by sister Louise Schoengrab and brother John Moreland.

A lifelong resident of Waldorf, Thomas was a dump truck driver for many years. He worked for Raye Vest Company and then up to the time of his retirement he drove for Reliable Contractors.

A visitation will be held on Friday, November 17, 2017 from 11:30 AM to 12:30 PM at Raymond Funeral Service, P.A. 5635 Washington Avenue La Plata, MD 20646. Interment to follow at the Mausoleum at Resurrection Cemetery, 8000 Woodyard Road Clinton, MD 20735. Arrangements by Raymond Funeral Service.