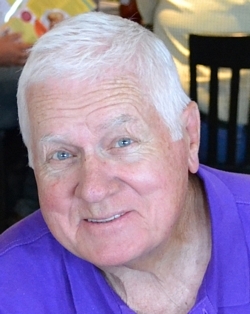 William Daniel "Dan" Goodman, 79, of Newburg, died on Monday, November 13, 2017, at the Washington Hospital Center in Washington, DC following a brief illness. Mr. Goodman is survived by his wife of 40 years, Betty (Wagner) Goodman; his son, Richard Goodman (Tammy), his daughters Jennifer Burroughs (Ashley), and Tricia Ducker (Sean), siblings Tom, Rick, Joe, Naomi and Myrt, 11 grandchildren, 3 great-grandchildren, and many close friends. He was preceded in death by his parents and his siblings, Paul, Sarah, David, and Becky.

Dan was born and raised in a small town in Tennessee, the son of Reuben and Mary Goodman. As the son of a pastor, Dan was raised with a strong faith in his God. He joined the United States Army, where he served for 3 years, before settling in Maryland, where he met his wife Betty. They were married in 1977.

Dan made a career as a District Manager for Safeway for many years, before venturing out on his own, and operating a small family store in Newburg, MD. "Dan's Store" on Rock Point Road became a local meeting spot, with its motto of "Where Friends Meet". Dan and his family operated this store for 15 years, before he retired to enjoy time in his beloved garden and wood shop.

Dan was a proud member of the Masonic Lodge for 50 years, and enjoyed camping in his RV, cooking, and spending time laughing with his family and friends. He was a member of Real Life Wesleyan Church, where he enjoyed serving as an usher/greeter. He was a big fan of the Dallas Cowboys, and was famous for his chicken salad.

A Celebration of Life will be held at Real Life Wesleyan Church in Mechanicsville, MD on Thursday, November 16, 2017, from 4-8 pm. A funeral service will be held at 7 pm. Please join us to celebrate Dan's life and legacy, and share your happiest, funniest, and most embarrassing Dan stories, as he would want it. In lieu of flowers, donations may be made in Dan's memory to Shriner's Hospital (Donate by phone: 844-739-0849) (Donate by mail: Office of Development, Shriner's Hospital for Children, 2900 Rocky Point Dr., Tampa, FL 33607). Arrangements by Arehart-Echols Funeral Home.