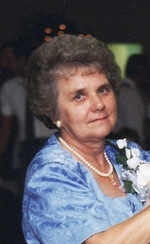 Helen Teresa Moran Hall of Chaptico, MD passed away peacefully Saturday, November 11, 2017 in Callaway, MD surrounded by her loving family. She was born on June 2, 1935 in Dubois, MD and raised on Wheatley's Farm in La Plata, MD. Helen was the youngest child born to the late William Martin Moran and Lala Ann Hill Moran. She was also predeceased by her older sister, Lucille McCreedy of Bridgeville, PA.

She was the loving wife of William (Billy) Howard Hall whom she married on June 2, 1956 at St. Mary's Catholic Church in Bryantown, MD, having celebrated 61 years of marriage. Helen is survived by her loving children; Catherine (Cathy) Marie Oliver (Jimmy) of Bushwood, MD, Patricia (Patty) Ann Wathen (Timmy) of California, MD; William "Wayne" Hall (Eva) of Chaptico, MD and Dennis Martin Hall (Barbara) of Chaptico, MD, and her brother, William (Billy) Matthews Moran (Ev) of Colonial Beach, Va. She is also survived by her eight grandchildren; Willie Oliver, Steven Oliver (Lydia), Stacey Wathen, Karen Wathen, April Hall, Rachel Hall, Beau Hall and Sam Hall and one great grandchild, Kirsten Mattingly.

Helen was a homemaker and her greatest love was to spend time with her family. She loved to host family gatherings at the holidays. She was a member of Sacred Heart Catholic Church, Bushwood, MD. The family would like to thank Hospice of St. Mary's for their kindness and compassion in taking care of their mother during the last three weeks of her life. The family would also like to thank Dr. Dabbs for making her smile.

The family will receive friends on Tuesday, November 14, 2017 from 5:00PM-8:00 PM with prayers recited at 7:00 PM in the Mattingley-Gardiner Funeral Home, Leonardtown, MD. A Mass of Christian Burial will be celebrated on Wednesday, November 15, 2017 at 9:30 AM in Sacred Heart Catholic Church with Father Anthony Lickteig officiating. Interment will follow in the church cemetery. Pallbearers will be her grandsons and Earl Ferricks and John E. Hall, Jr. Honorary pallbearers will be her granddaughters. Memorial donation can be made in Helen's name to Hospice of St. Mary's, P.O Box 625, Leonardtown, DM 20650, and the Seventh Dist. Vol. Rescue Squad, P.O. Box 7, Avenue, MD 20609. Arrangements by Mattingley-Gardiner Funeral Home.