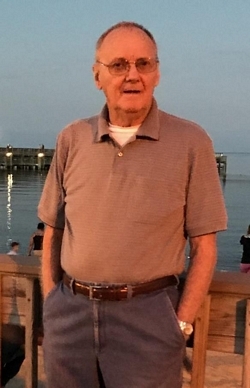 Ernest (Cleo) Tolley was born in Vicars, West Virginia on March 15, 1936. He entered Heaven's Gates November 7, 2017. After graduating high school at Walton High School in 1955 he went on to Charleston School of Commerce and studied accounting and business. Cleo joined the Army, where he served in Korea. After completing his military career, he moved to Washington DC for a job opportunity where he met the love of his life, Judy. Cleo and

Judy married on October 31, 1964. Cleo and his family moved from Washington DC in 1971 to Calvert County, MD. It was then he started his business, Super Janitorial Services, which he successfully operated with his partner and family until he retired in 2016. Cleo was a devoted member of Huntingtown United Methodist Church and the American Legion in Huntingtown, Maryland. His Church and Legion family could always count on him to help out in anyway and entertain them with his jokes and witty humor.

Cleo was always smiling. He was a great man that everyone enjoyed being around and loved dearly. He was affectionately known to his family as "Poppie". Cleo was very loving and devoted to Judy. He was dedicated to his family and had a kind, gentle way about him. Cleo loved to travel, work in his garden, and spend time with his family and friends fishing and crabbing on the Patuxent River. Life never failed to be anything less than an adventure with Cleo. His memory will forever live in our hearts as well as everyone that was lucky enough to know him.

Cleo is survived by his wife Judy Dickerson Tolley, a son Gregg B. Tolley and wife Keely and daughter Theresa M. Cameron and partner Josh Moreland, all of Huntingtown; grandchildren Ashley Ruleman, Alyssa Strickland, Kaitlyn Tolley, Cortney Cameron, Cody Tolley, Taylor Cameron, and Colton Moreland; great-grandchildren Brayden, Carson, Anthony, Emma and Oaklynn; and a brother James B. Tolley of Hagerstown. He was preceded in death by his parents Romey Edward and Beulah Myrtle (Ferrell) Tolley, a sister Gaye Brown, and a brother Noel Tolley. Arrangements by Rausch Funeral Home.