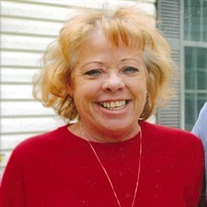 Cheryl Ann Lucas, age 70, of White Plains, Maryland, passed away on Thursday, November 2, 2017. She was the daughter of BettyAnn (Dusenberry) Dix and John A. Dix, Sr. She is the oldest of two siblings and graduated from Suitland High School in Suitland, Maryland, growing up in Morningside, Maryland. Cheryl married Allen J. Lucas of Marlow Heights, Maryland at Mount Calvary Catholic Church on March 21, 1970. They lived in Suitland until moving to Charles County in 1971.

Cheryl was a loving aunt to her nieces and nephews and was known as Aunt Pee Wee by many. She lived a Christian life with service to others. She was a volunteer with Charles County Meals on Wheels and Lifestream Nazarene Children's Lunch Program. She and her good friend, Darlene, made and provided warm colorful hats for cancer patients while going through her own cancer treatments. She also volunteered at St. Joseph's Catholic Church in Pomfret, Maryland. Cheryl had a loving heart for all and was kind, humble, and considerate. She was a helpmate and was trustworthy and faithful to her husband. She also had an interest in attending church wherever she was and whenever she was able. She was also extremely loved and will truly be missed by all.

Cheryl is survived by her husband of 47 years, Allen J. Lucas; her brother, John A. Dix, Jr. (Carolyn) of Clinton, Maryland; and his three children, Brian Dix of Clinton, Maryland, Amanda Dix of Annapolis, Maryland, and Craig Dix (Kristen) of Danville, Pennsylvania (expecting their first child in December). She is also survived by her many cousins and friends.

Friends received on Saturday, November 11, 2017 from 3PM until time of Memorial Service at 4PM at Lifestream Church of the Nazarene, 5105 Leonardtown Road, Waldorf, Maryland 20602. Memorials in Cheryl's name are asked to Lifestream Church of the Nazarene (5105 Leonardtown Road, Waldorf, Maryland 20602) or New Life Wesleyan Church (9690 Shepherd's Creek Place, La Plata, Maryland 20646). Arrangements by Raymond Funeral Service.