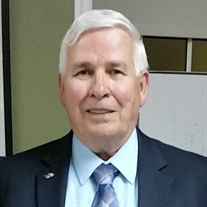 John Franklin Campbell, age 78, of Waldorf, Maryland died November 2, 2017 at his residence with Hospice. He was the son of Earl Campbell and Opal Childers Campbell. In addition to his parents, he was also predeceased by his son, Keith Campbell and his brothers, Everett and Michael Campbell. He is survived by his wife of 60 years, Ladonna Adelene Williams Campbell; his daughters, Teressa Lacy (Dan) and Brenda Hoole (Tom); his sisters, Charlene Gallhue (Ray) and Diana Bell (Roger); his grandchildren, Amanda and Ryan; and his great grandchild, Kali.

John was a retired E-8 Senior Master Sgt. with 23 years of service with the U.S. Air Force and was a member of St. Joseph's Catholic Church in Pomfret, Maryland. He was also a Business Analyst for Hubbell Space Telescope at NASA in Greenbelt, Maryland. He was a member of the Moose Lodge, VFW, American Legion, and Waldorf Elks Lodge. He had his own DJ business for 15 years and loved fishing, boating, crabbing, and his country music.

Friends received on Monday, November 13, 2017 from 10AM until Mass of Christian Burial at 11AM at St. Joseph's Catholic Church, 4590 St. Joseph Way, Pomfret, Maryland 20675. Interment to follow in the church cemetery with Military Honors. Memorial contributions in John's name are asked to the Waldorf Elks Lodge (2210 Old Washington Road, Waldorf, Maryland 20601) or St. Joseph's Catholic Church (4590 St. Joseph Way, Pomfret, Maryland 20675). Arrangements by Raymond Funeral Service.