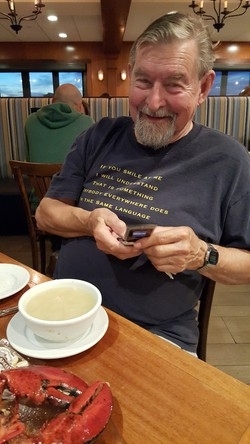 PNC Donald Madison Dale, USN, (Ret.), 82 of Leonardtown, MD passed away on Wednesday, November 1, 2017 at MedStar St. Mary's Hospital surrounded by his loving family. He was born August 27, 1935 in Olympia, WA to the late Woodie Madison Dale and Barbara P. Saeger Dale. Donald joined the U.S. Navy at the age of 19. He retired in 1976 after dedicating 22 years of service to his country. After retiring from the Navy, Donald worked for the U.S. Postal Service until February 2017.

Donald loved to be outside working in the yard and garden. He was happiest when he was spending time with his grandchildren and family. Donald was known for his huge heart and was always willing to give his time. He often volunteered for Meals on Wheels. He was a life time member of The National Rifle Association, a member of VFW Post 2032 and Post 255 of the American Legion.

Donald is survived by his wife, Catherine Lynn Dale, his children; Barb Landers (Allen) of Great Mills, MD, Donald "Butch" Dale (Cindy) of Lexington Park, MD and Patricia Weers (Terry) of Great Mills, MD, sibling; Bill Dale of Lacey, WA. Donald also leaves behind 7 beautiful grandchildren and eleven great grandchildren. Donald is preceded in death by his parents, a daughter Marilyn Jo Dale and grandson Christopher Dale.

Family will receive friends for Donald's Life Celebration on Friday, November 10, 2017 from 1:00 PM - 3:00 PM with a memorial service at 3:00 PM at the Brinsfield Funeral Home, P.A., 22955 Hollywood Rd., Leonardtown, MD 20650. Inurnment will be private. Donations may be made to, St. Mary's County Office of Aging, Meals on Wheels, P.O. Box 653, Leonardtown, MD 20650. Arrangements by the Brinsfield Funeral Home, P.A.