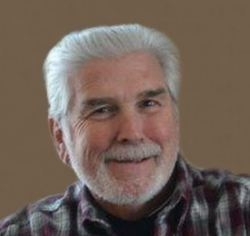 James Edelen "Ed" Mattingly, formerly of St. Mary's County and for the past three years a resident in Solomons, Maryland passed away peacefully on November 2, 2017 after a 14 year battle with Multiple Myeloma. Ed was born on December 2, 1946 in Leonardtown, Maryland to the late Mary Loretta Gough and Charles Jenkins Mattingly, Jr. He was a graduate of Chopticon High School and upon graduation attended the American Institute Business School in Washington, DC. After completion of these studies, Ed went on to work for the Architect of the Capitol where he retired after 31 years.

Ed has been married to his beloved wife, Susan Kathryn Hamilton, for the past 20 years, who has helped care for him during his battle with cancer. Ed was an active member of Hughesville Baptist Church where he was a Deacon, an Usher, and a member of the Adult Choir and Sunday School. Ed loved his church and church family. He also joined the church's Nail Benders whose mission was to help families and churches in need by refurbishing their homes and buildings. He was also a part of the Men's ministry and enjoyed attending the Mission trips to Liberty University in Lynchburg, Virginia.

Ed's interest and enjoyment of classic cars of all makes and most models and motorcycles was known by many. He truly enjoyed this hobby and was well known for his numerous trading of cars. He was a lifetime member of the Southern Knights Rod & Custom Car Club where he had held the office of President and various positions.

Ed is survived by his loving wife, Susan, a daughter Michelle Nicely (Rick), a son Bryan Mattingly (Kim), stepsons Leonard Ferris, Jr., (Michele) and Kevin Ferris (Harmony), and a step-daughter Kelly Childress (Chris); grandchildren, Devon, Emma, Erin, Hope, Emmi, Abby, Matthew, Jordyn, Craig, Jason, Zachary, Caleb, Cooper, Caroline, and the 15th expected in March. These children loved him and called him "Grandpa Ed", "Grandpa", "G-Pa" and just "Pa". Ed is also survived by his brothers and sisters, Joseph "Mussie" (Patsy), Steve (Shirley), Bill (Patti), Lori, Mary Anne (Clarke) and Bobby (Tracy). Ed's oldest brother, Jenks and sister-in-law Cathy passed before him.

Family will receive friends for Ed's Life Celebration on Tuesday, November 7, 2017 from 1pm to 3pm and 5pm to 7pm at Hughesville Baptist Church, 8505 Old Leonardtown Road, Hughesville, MD 20637. A Christian service will be held on Wednesday, November 8, 2017 at 12pm and will be followed by a luncheon for family and close friends of Ed and Susan.

Memorial donations may be made to the "Cancer Care Infusion Service", St. Mary's Hospital, Leonardtown, MD 20650, formerly known as OPIS, where in 2004 Ed began his battle fighting Multiple Myeloma with a professional team led by Dana Russell and later treatment under the care of Dr. Ahmed Khan and an outstanding group of health care providers and administrative support; Joan, Cathy, Theresa, Sherry, Patti, Diane, Natasha, Rose, Rachael, Gloria, Chelsea, and Emma! Arrangements by Brinsfield Funeral Home.