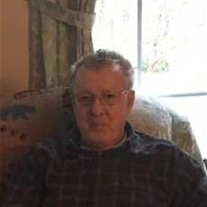 Raymond Ashby Reed, of Waldorf, Maryland passed away at his home with his family at his beside on November 2, 2017. Ray was born on August 14, 1944 to Carl Ashby Reed and Margaret Elizabeth Liggan in Washington DC. Ray proudly served his country in the Vietnam War from April 1969 to April 1971, where he received the National Defense Service Medal, Vietnam Service Medal, Vietnam Campaign Medal, Rifle Marksman Badge and Combat Action Ribbon.

Ray retired from the Smithsonian Institute where he worked as a Pipefitter Foreman. After retiring from the Smithsonian he worked several summers on the Folklife Festival. He loved hunting and fishing and anything to do with wildlife and outdoors. While living in Southern Maryland, he was a member of the Buckhorn Bow & Gun Club for 52 years. Ray was a family man and a loving father and husband. His boys said he was the best father that two sons could ever ask for and he will be missed by all.

He is survived by his wife Pat, his sons, Jason Ashby Reed and Raymond Anthony Reed; his brother Carl Reed; grandchildren: Shanna, Victoria, and Everett, Kai, and Dylan, Daughters-in-law;. Kelly and Nina. He had many longtime friends in the hunting club that meant a great deal to him; Danny & Lynn (Lynn whipped up some great meals for him), Ray regretted that he never got the chance to go to Florida with Danny to go fishing; Jerry Jones, Kevin Yoder & his Dad, Gary Sansbury and many others. His sister-in-law, Andrea & her husband Mike (Andrea always called him Rayford), sister-in-law Jackie and many nieces and nephews and his beloved cocker spaniel buddy Taz.

The family will receive friends for Ray's visitation on Tuesday, November 7, 2017 from 6 p.m. to 7 p.m. with prayers and the honorary salute by the marine corp. from 7 p.m. to 8 p.m. at Lee Funeral Home, 6633 Old Alexandria Ferry Road, Clinton, MD 20735. Arrangements by Lee Funeral Home.