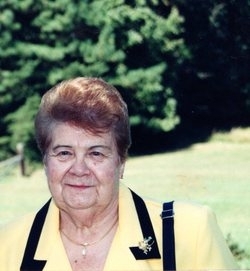 Frances E. Trossbach, 89, of Leonardtown, MD passed away on Tuesday, October 31, 2017 at St. Mary's Nursing Center surrounded by her loving family. Born April 5, 1928 in Great Mills, MD, she was the daughter of the late Clarence Matthew Aud and Estelle Coombs Aud. Raised on the family farm in Great Mills, MD Frances attended Little Flower School and later Great Mills High School.

On April 7, 1947, she married her beloved husband, Warren Ignatius Trossbach Sr. at Holy Face Church in Great Mills, MD. Together, they welcomed 2 children; Helen Bowles (Joseph) of Leonardtown, MD, and Warren Trossbach Jr. (Diane) of Leonardtown, MD. Frances was not one to stay still for very long. Prior to her retirement from St. Mary's County Public Schools in 2003, Frances had been employed as a bus driver for public and parochial schools and cafeteria worker at Leonardtown Middle School. When she was not at work, she could be always be found cooking for her family, fussing over her Christmas lights, or reading her "stories". Additionally she enjoyed the soothing sounds of the ocean and the ringing bells of slot machines when traveling with her family.

In addition to her children, Frances is survived by her grandchildren; Mary Van Ryswick (Michael) of Leonardtown, Patricia Graves of Leonardtown, Danny Bowles (Laura) of Leonardtown, Jared Trossbach of Leonardtown, Brice Trossbach of Leonardtown and 7 great grandchildren, Mikey Van Ryswick, Sara Van Ryswick, Austin Graves, Derek Van Ryswick, Jessica Graves, Evan Bowles, and Kyle Van Ryswick. She is also survived by her siblings: Dorothy Schindler of Hollywood, MD, Edna Trossbach of Browns Mills, NJ and John Aud of Park Hall, MD. She is preceded in death by her siblings: Myrtle Abell, Matthew Aud, Teresa Trossbach, Mary Schindler, Marie Trossbach, Combs Aud, Bernice Aud, Junior Aud, and Tommy Aud.

Family will receive friends for Frances' Life Celebration on Sunday, November 5, 2017 from 2:00 pm to 5:00 pm at Brinsfield Funeral Home, 22955 Hollywood Road, Leonardtown, MD 20650, with prayers recited at 4:00 pm. A funeral service will be celebrated by Father John Nguyen on Monday, November 6, 2017 at 10:00 am at Our Lady's Church of Medley's Neck, MD. Interment will follow at Charles Memorial Gardens.

Serving as pallbearers will be: Mary Van Ryswick, Patricia Graves, Danny Bowles, Jared Trossbach, Brice Trossbach, and Mikey Van Ryswick. Memorial contributions can be made to the Leonardtown Volunteer Fire Department, P.O. Box 50, Leonardtown, MD 20650 or the Leonardtown Volunteer Rescue Squad, P.O. Box 299, Leonardtown, MD 20650. Arrangements by Brinsfield Funeral Home. Arrangements by the Brinsfield Funeral Home, P.A.