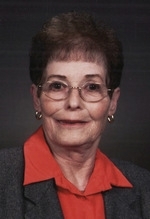 Margaret T. Purcell, 82, of Drayden, MD died on October 31, 2017 at her residence. Born on June 7, 1935 in Luna, Louisiana. Margaret was the daughter of the Edward and Ella Tisdale. She was the loving wife of the late George F. Purcell whom she married in West Monroe, Louisiana on August 4, 1956, and who preceded her in death on April 26, 2012.

Margaret is survived by her daughters; Patricia Wince (Donnie) of Valley Lee, MD, Gail Wood (Ron) of Hollywood, MD, grandchildren include; Dale Wince of Compton, Jay Wince of Middle River, MD, and Meaghan Wince of Valley Lee, MD, step grandchild; Natalie Wood of Mechanicsville, MD and great grandson Ashton Wince of Compton, MD. Mrs. Purcell is also survived by her sister Mae Bailey. She was preceded in death by her siblings; Thelma Dell, Jese Tisdale, David Tisdale, James Tisdale, Bertie Foster.

Margaret graduated from North Western University in Louisiana with a nursing degree and moved to St. Mary's County, MD in 1956. She began working at St. Mary's Hospital and was employed for 29 years at St. Mary's County Health Department as a community health nurse. Mrs. Purcell was a member of the Leonardtown Vol. Fire Department Ladies Auxiliary for several years. Margaret's greatest love was to spend time with her husband, family, grandchildren and friends. She enjoyed fishing, traveling, gardening and reading.

The family will receive friends on Tuesday, November 7, 2017 from 5:00 PM-8:00 PM with prayers recited at 7:00 PM in the Mattingley-Gardiner Funeral Home, Leonardtown, MD. A Funeral Service will be held on Wednesday, November 8, 2017 at 10:00 AM in the Funeral Home Chapel with Pastor Alan Hemming officiating. Interment will follow in St. George's Catholic Cemetery, Valley Lee, MD.

Pallbearers will be; Dale Wince, Jay Wince, Jason Whetstone, Bradley Swann, Tommy Deagle and Luther Edwards. Honorary Pallbearers will be; Dave Long, Paul Purcell and David Dillworth. Arrangements by Mattingley-Gardiner Funeral Home. Contributions may be made to the Second Dist. Vol. Fire Department and Rescue Squad P.O. Box 1 Valley Lee, MD 20692 and St. George Island United Methodist Church 16271 Thomas Road Piney Point, MD 20674.