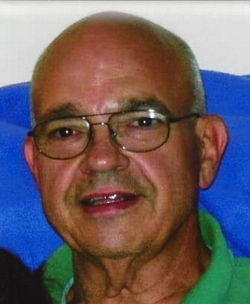 James "Jim" Sisson, 64, of Lusby, MD passed away on November 1, 2017 at his residence. Born August 8, 1953 in Binghamton, NY he was the son of the late Fred Usher Sisson, Sr. and Margaret (Webb) Sisson. Jim graduated from Chenango Valley Central High School in 1971 and attended SUNY - Brockport. He served in the U.S. Air Force from 1976 until 1980 and was stationed at Andrews Air Force Base.

He moved to Calvert County from Waldorf, MD in 2003. Jim married his wife, Donna (Foley) Sisson on December 6, 2003 in Lusby, MD. He was a Facilities Manager for the U.S. Government for 33 years, retiring in 2014. Jim was a member of the Boy Scouts of America and the Elks Lodge. He enjoyed sports, traveling, fishing, and talking with friends, family and strangers.

Jim is survived by his wife Donna Sisson; his children, Michael Sisson (Kim) of Roswell, NM, Christopher Sisson (Dana) of Lorton, VA, Elizabeth Sisson of Lusby, MD and Calleigh Sisson of Lusby, MD; siblings, Fred Sisson (Terri) of Charleston, SC, Celia Davey of Mason, OH, Webb Sisson (Linda) of Chenango Bridge, NY; and grandchildren, Louis Sisson and Nathaniel Sisson. He was preceded in death by his sister, Anne Casey and his former spouse, Margaret Sisson.

Family will receive friends on Saturday, November 11, 2017 from 11:30 a.m. until 12:30 p.m. where a Memorial Service will follow at 12:30 p.m. at Rausch Funeral Home, P.A., 20 American Lane, Lusby, MD 20657. Inurnment will be in the Maryland Veterans Cemetery, Cheltenham, MD. Memorial contributions may be made to the Lymphoma Research Foundation, 115 Broadway, Suite 1301, New York, NY 10006 or Calvert Hospice, P.O. Box 838, Prince Frederick, MD 20678. Arrangements by Rausch Funeral Home.