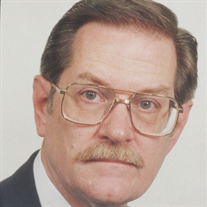 Kenneth A. Boyd, 79, of La Plata passed away on Wednesday, November 1, 2017. He was born in Pittsfield, Massachusetts and raised in Northampton, Massachusetts. He earned a Bachelor of Science in physics from the University of Massachusetts (Amherst) in 1959 and a Master of Public Administration in operations research and R&D management from The American University in Washington, D.C. in 1970.

From 1956 to 1959, he was an enlisted member of the 104th Fighter-Interceptor Squadron of the Massachusetts Air National Guard. In 1959, he transferred to the United States Air Force Reserve and received an Honorable Discharge in 1962. Mr. Boyd began his career with the United States Navy in 1959 as a research scientist at the Naval Weapons Laboratory at Dahlgren, Virginia conducting studies of the effects of electromagnetic radiation on naval ordnance. He was subsequently involved in the administration of research and development programs and organizations, and published articles discussing the Navy R&D laboratory community.

He served in a variety of management positions, both at Dahlgren and the Navy headquarters offices in Washington, D.C., including as Executive Assistant to the Deputy Chief of Naval Material, Executive Assistant to the Deputy Commander of the Naval Space and Warfare Systems Command, and Special Assistant to the Deputy Assistant Secretary of the Navy for Surface Warfare. In 1993, he retired as the Executive Assistant to the Technical Director of the Naval Surface Warfare Center at Dahlgren.

For many years, Mr. Boyd was an active member of the La Plata Lions Club, serving as its president in 1972. He subsequently held the positions of Zone Chairman, Deputy District Governor, and District Treasurer in Lions District 22-C. He also chaired many project committees at the Club and District levels, received the District's highest award for service in 1990, and was a Melvin Jones Fellow in the International Association of Lions Clubs. He compiled and published a history of the La Plata Lions Club.

Other community service activities included serving on the Physicians Memorial Hospital Foundation board of directors, and on the Leonard Hall Junior Naval Academy board of trustees. He was a charter member of the original Charles County Junior Chamber of Commerce chapter, and served as treasurer of the Port Tobacco Players. He had also been a member of the Rotary Club, and was a Paul Harris Fellow in Rotary International. His past professional affiliations included membership in the U. S. Naval Institute and in the Navy League of the United States.

Mr. Boyd was preceded in death by his father, Clifford Boyd (originally of Belfast, Ireland) and his mother, Blanche (Tuell) Boyd (originally of Bristol, Virginia). He is survived by his wife of 57 years, Rebekah; his daughter Jennifer, of Herndon, Virginia; and his brother Stephen, of Lebanon, Pennsylvania.

Services and interment will be held privately. Memorial contributions in Mr. Boyd's name may be sent to Hospice of Charles County, 2505 Davis Road, Waldorf, Maryland 20603. Arrangements by Raymond Funeral Service.