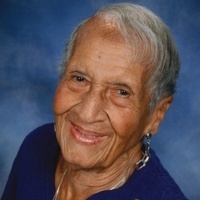 Mrs. Ethel L. Evans, formerly Ms. Ethel L. Poole, transitioned peacefully to our Heavenly Father early on the morning of October 28, 2017, at the University of Maryland Charles Regional Medical Center, La Plata Maryland. Ethel was the daughter of Edward and Annie Poole and the youngest of eight brothers and sisters. She was born and raised in Charles County Maryland where she completed her high school education at Pomonkey High School. After her marriage to Golden R. Evans "Goldie"(deceased), she briefly worked in the Federal Government and later settled as a homemaker for her family.

Ethel was a devout Episcopalian and former member of Calvary Episcopal Church, Washington, D.C. and was currently an active member for over 40 years at St. James' Episcopal Church, Indian Head, MD. Ethel was a member of the choir (our Aretha Franklin), the Episcopal Church Women and the Altar Guild and served wherever and whenever needed. Ethel was also a faithful member of the Truth Chapter Order of the Eastern Star "19" in Pomonkey, MD. She was also a Charter member of the American Legion Auxiliary #170 and formerly served as Unit Chaplain.

Ethel met the love of her life, Goldie, while working at the Naval Ordnance Station (formerly the Naval Propellant Plant), over breakfast in the cafeteria. They later went on a double date to the Howard Theater in a '41 Super Buick. They were married on March 22, 1946, in Rockville, MD by Rev. William Davis, who was in the field with his horse and plow at the time they arrived to be joined in holy matrimony.

Although short in height, Ethel was feisty, and Goldie nicknamed her, "Little Beaver." Devout Christians and faithful servants throughout their lives, their favorite hymns were "I Am Redeemed", "What a Friend We Have in Jesus," "Jesus Keep Me Near the Cross" and "I'm Comin' Up on the Rough Side of the Mountain." Everyone could hear the small speakers pounding out the base as you approached the carport. The 23rd and 27th Psalms were among their favorite scriptural readings.

Ethel loved her "BINGO" and she and her neighbor "Nita" (Juanita Johnson) would carpool to wherever it took to play a game! So I imagine in addition to getting her "Mansion," she's looking around for the heavenly BINGO game! And in between her bingo games, she baked a mean 7-up cake which everyone put in orders for! Ethel's charming personality, smile, willingness, and quiet manner were truly assets that have inspired her family and friends to support the high ideals, goals and standards so beautifully set and lived by her and Goldie.

Ethel is survived by her two loving daughters, Karen Evans Burroughs (Walton) and Shirley Louise Evans; three grandchildren, Michael Burroughs (Towan), David Burroughs (Detra), and Tia Burroughs Birt (Davey); seven great-grandchildren, Troy Burroughs, Mya Burroughs, Nyree Sylvia, Jenae Smith, Camille Birt, Noah Birt and Da'Nia Burroughs. (Ethel is known as Dah (Darling) to her grand and great-grandchildren). Ethel is also survived by one sister-in-law, Carolyn Poole and a loving "special son", Barry W. Thomas, a host of nieces, nephews, great nieces, great nephews, cousins and dear neighbors and friends she met throughout her life.

Viewing, 5:00 pm to 8:00 pm, November 7, 2017 in the Chapel of Thornton Funeral Home, P.A., Service, Wednesday, November, 8, 2017 at 10:30 am, St. James Episcopal Church, 7 Potomac Avenue, Indian Head, Maryland 20640. Interment, Maryland Veteran Cemetery, 11301 Crain Highway, Cheltenham, Maryland 20623. Arrangements by Thornton Funeral Home.