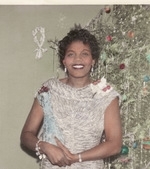 Elizabeth Regina (Stevens) Swales, at the age of 95, completed her circle of life on this earth on October 20, 2017 at her home in Hollywood, MD surround by her loving family to start a new circle of eternal life with her Heavenly Father. Elizabeth was born July, 14, 1922 in Hollywood, MD to the late Catherine Annie (Clark) Stevens and Joseph Ignatius Stevens. She grew up in a loving family with two older brothers, who have both preceded her in death. She was the apple of her parent's eye and affectionately called "Sis Baby" a nickname that remained throughout her life.

Elizabeth was educated in the St. Mary's County Public School System, attending Phyllis Wheatly Elementary School in Hollywood, MD and Banneker School in Loveville, MD. On April 19, 1941, Elizabeth married Joseph "Chester" Swales, Sr. of Leonardtown, MD and shared 50 years of marriage until his death in 1991. Together they raised a family of five daughters and two sons. Over the years the family grew to include 9 grandchildren and 9 great-grandchildren.

Elizabeth was the proprietor of the Sis's Hideaway Lounge located on Park Avenue in Leonardtown, MD. For 26 years she successfully owned and managed her establishment which became a well-known community gathering place. Over the decades, her daughters and even grandchildren were supportive of her business and created countless fond and funny memories with patrons, friends and family. She was warmly known as "Mama", "Sis", "Miss Sis" and "Sis Baby" to many.

Elizabeth truly enjoyed socializing, music, dancing, and spending time with friends. Her hobbies included playing cards and watching her favorite TV shows such as westerns, Matlock, Deal or No Deal, The Price is Right, Judge Judy, and Family Feud with Steve Harvey. She enjoyed spending time with her great-grandchildren and talking almost daily with her best friends, Hess Dorsey and Larry Kane. Also she was a stylish dresser and took pride in her appearance through her lifetime. But most of all, she found great pleasure in frequent visits from her grandchildren and great-grandchildren.

Mama's home was the focal point for family gatherings, celebrations, holidays, great meals and laughter. During her later years she looked forward to family game night on Saturdays which consisted of bingo, cards and po-ke-no. Mama insisted on going for the big bucks----a dime a game. Even when her health started to decline, Mama would get in her daily exercise by dancing in the house to oldies on the radio.

As a longtime member of St. Aloysius Catholic Church, Elizabeth proudly served as a Eucharistic Minister and was an active member of the Ladies of Charity. She attended Mass regularly and was devoted to the Rosary. When she was not able to go to church she practiced her faith by watching mass and Holy Rosary on the EWTN Catholic TV channel. She was a believer in the power of prayer and comforted her family by reminding them to seek God as their strength during life's challenges.

Elizabeth leaves to cherish her memory: 5 daughters (Catherine E. Swales, Sarah R. Swales, Margaret M. Fant, Annie L. Swales, and Mary M. Swales); 8 grandchildren (Cynthia Brown, Angela Thompson, Eugenia Thompson, Francis Thompson, Jr., Tracy Slack (Bryan), Michael Swales, Heather Golding, and Tiffany Swales); 9 great-grandchildren: (Latasha Baker, Andre Brown, Kaylee Swales, Kyann Brown, Doryan Slack, Kaylah Barnes, Jaylan Golding, Xavier Slack and Aaliyah Golding). In addition to her parents and husband, she is also preceded in death by her brothers, Joseph I. Stevens, Jr. and Joseph C. Stevens; sons, Thomas T. Swales and Joseph C. Swales, Jr.; and grand-son, Jerome Swales.

The family will receive friends on Saturday, October 28, 2017 from 10:00 AM-11:00 AM in St. Aloysius Catholic Church Leonardtown, MD Where a Mass of Christian Burial will be celebrated at 11:00 AM with Father David Beaubien officiating. Interment will follow in St. John's Catholic Cemetery, Hollywood, MD. Pallbearers will be; John Swales, Philip Swales, Francis Thompson, Jr., Andre Brown, Thomas Briscoe, and Michael Swales. Honorary Pallbearers will be; Larry Kane, John Harris, Bernard Clark, and John Reed.

In lieu of flowers, memorial contributions in Elizabeth Swales name can be made to; Hospice of St. Mary's, P.O. Box 625, Leonardtown, MD 20650, Hollywood Vol. Rescue Squad, P.O. Box 79, Hollywood, MD 2063, and St. Mary's Nursing Center, 21585 Peabody Street, Leonardtown, MD 20650. Arrangements by Mattingley-Gardiner Funeral Home.