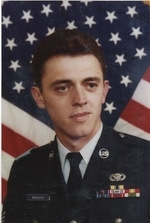 John W. Brubacher, 62, of Cheyenne, Wyoming passed away Thursday evening, October 19, 2017, at the Davis Hospice Center. John was born December 4, 1954, in Leonardtown, Maryland, son of the late Werner J. and Marguerite (Woodburn) Brubacher. John is survived by his sisters and brother, Daniel Brubacher, Mary Jane Perigo, Johanna Malone and Agnes Hardcastle.

John enlisted in the United States Air Force on January 2, 1973 and served honorably during his tenure. He served in Operation Desert Storm and won numerous awards. He retired as a Chief Master Sergeant on February 1, 1999. John was a graduate of Laramie County Community College and also Community College of the Air Force. His many interests included playing guitar and spending time with his wonderful friends.

The family will receive friends on Thursday, October 26, 2017 from 5:00 PM-8:00 PM with prayers recited at 7:00 PM in the Mattingley-Gardiner Funeral Home, Leonardtown, MD. Graveside Service will be held with military honors on Friday, October 27, 2017 at 11:00 AM in Our Lady's Catholic Cemetery, Leonardtown, MD with Father John Nguyen officiating. Contributions may be made to Hospice of St. Mary's, P.O. Box 625, Leonardtown, MD 20650 and Leonardtown Vol. Fire Department, P.O. Box 50, Leonardtown, MD 20650. Arrangements by Mattingley-Gardiner Funeral Home.