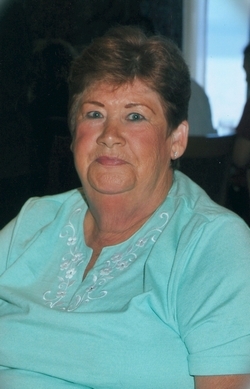 Gwendolyn Ann "Gwen" Arnold, 76, of Lexington Park passed away October 21, 2017 at her residence. She was born August 9, 1941 in Capitol Heights to Wilmer and Alice (Brady) Greenwell. Gwen married Donald Arnold in June of 1961 and they lived in Capitol Heights before moving to Prince Frederick, where she lived for 32 years. She moved to Lexington Park in 2011 and lived with her daughter until her passing.

Gwen was employed as a meat wrapper for A&P Grocery and later Safeway for 16 years. She then went to work cleaning houses for 9 years until her retirement. Gwen enjoyed visiting with friends at Calvert Pines Senior Center and found joy in crafts, flowers and games of chance. She wanted to be remembered as a funny lady who wished everyone happiness.

Gwen was preceded in death by her husband Donald James Arnold, Sr. in 1986, son Joseph A. Arnold, sisters Margaret Grey and Mary Alice Hyson and brothers Thomas Sr. and Timothy Greenwell. She is survived by children Alice R. Caudill of Lexington Park, Donald J. Arnold, Jr. and wife Debbie of Mechanicsburg, PA and Valerie E. Reinhart of Lancaster, PA, grandchildren Scott and Sarah Caudill, Donald J. Arnold III and Austin Michael Reinhardt, great grandson Aidan Lee Caudill and several nieces and nephews. Arrangements by Rausch Funeral Home.