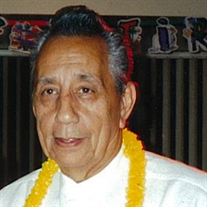 Eugene G. Macogay of Waldorf, Maryland died on Friday, October 20, 2017 at his home surrounded by his family. He was 89 years old. Born on September 6, 1928 in Washington, DC, he was the son of the late Sylvia Hall Macogay and Alejandro C. Macogay.

Mr. Macogay was a Senior Engineer of Plant Operations in the Engineering Department of the George Washington University Hospital in Washington, DC before retiring. In the 1940's and 1950's Mr. Macogay was a professional boxer. He loved to cook and have everybody present enjoy what he served. His family was his life.

He is survived by his wife of 67 years, Constance F. Macogay; children Deborah (Wayne) Leer, Michele (Carl) Soiné, Eugene Macogay, Kim (John) Kern, Craig (Amy) Macogay; grandchildren Tina (Andy) Thompson, Stephanie (Ken) Lane, Bruce Sheffler, Eugene (Melissa) Macogay, Jeffrey Sheffler, Tony Soriano, Janelle (Bryan) Jones, Angelyn (Henry II) Fernandez, Allyson Soiné, Alex Macogay, Ashleigh Kern, Casey (James) Macogay; great- grandchildren Brian Thompson, Derek Lane, Brendan Thompson, Danielle Lane, Gabrielle Macogay, Henry Fernandez, Hudson Fernandez, Aubrey Schallmo.

Family and friends to gather on Thursday, October 26, 2017 from 10 AM until time for memorial services to begin at 11 AM at Raymond Funeral Service, P.A. 5635 Washington Avenue La Plata, MD. 20646. Interment will be private. In lieu of flowers, memorial contributions may be made to American Lung Association, Donation Processing Center, PO Box 7000, Albert Lea, MN 56007-8001. Arrangements by Raymond Funeral Home.