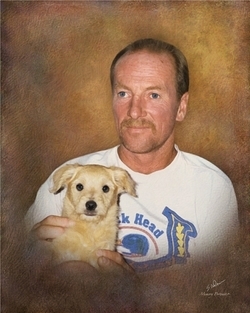 Charles "Gary" Norris, 62, of St. Inigoes, MD passed away on Thursday, October 19, 2017 at his home surrounded by his loving family after a courageous battle with cancer. He was born September 15, 1955 in Leonardtown, MD. His father was the late Robert H. Norris, Sr.

Gary was a lifelong resident of St. Mary's County. He attended St. Michael's Catholic School and Great Mills High School. During his school years he played little league baseball for the Strugglers and later slow pitch for the Ridge Orioles. He was a dedicated and skilled carpenter working for several companies and then later for himself; he took great pride in his work.

Gary married his girl Susan in Potomac, MD. Together they celebrated over 27 wonderful years of marriage. He enjoyed being on the water: boating, crabbing, fishing and jet skiing. He enjoyed gardening and cooking on the grill. He loved his 4-footed babies, especially his Yorkie "Maggie". He also enjoyed cheering the Redskins to victory and watching NASCAR. He was a history buff and enjoyed watching the Discovery and History channels. He liked to 'cut a rug' and enjoyed camping with his family and friends. He loved people and never met a stranger; his laugh was inviting and infectious. He had a special bond with his brothers, and they all enjoyed spending time together. Family was important to Gary.

In addition to his wife, Susan, Gary is also survived by his brothers: Robbie Norris, Jr. (Carol) of Ridge, MD, Brian Norris of Wilmington, NC and Wade Norris of Ridge, MD; his in-laws John and Joanne ('Mom') Hoglund, brother-in-law David Hoglund (Loretta), sister-in-law Kristy Hoglund McGrath (Rick); nieces and nephews: Beau (Elisabeth), Sara (Sam), Daniel, Andrew, Emma, Carson, Molly, Brooke and Cassie; his great niece and nephew, Jacob and Rylee, and many extended family and friends. His best buds were Richard and Chris.

Family will receive friends for Gary's Life Celebration on Friday, October 27, 2017 from 9:30 to 11:30 a.m., with a Celebration of Life Service at 11:30 a.m., at Brinsfield Funeral Home, P.A., 22955 Hollywood Road, Leonardtown, MD 20650. Memorial contributions may be made to the family to assist with incurred medical expenses. Arrangements by the Brinsfield Funeral Home, P.A.