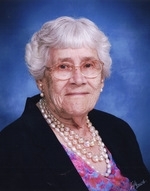 Ida Elizabeth "Bessie" Gray, 97, of Chaptico, MD passed away peacefully on October 17, 2017 at her home surrounded by her loving family. Ida was born October 7, 1920 in Budds Creek, MD to the late Joseph Dixie Hill and Ida Catherine (Thompson) Hill. Ida attended "the little pink school house" in Budds Creek but had to leave in high school to help work on the family farm.

On November 25, 1937 she married Albert Joseph Gray who proceeded her in death on March 13, 1967. Ida was a wife, mother, sister, Aunt, Grandmother, Great-Grandmother, Great-Great-Grandmother, and Great-Great-Great-Grandmother. Ida was known as "Bessie" and also as "Grandma Gray." Ida loved flowers, her yard was full of beautiful flowers, which she was able to water and tend to until the age of 95, then she told her family how to take care of them for her. She enjoyed card parties, bingo, dancing, yard sales, walking and her "wood burning stove, she was known to have a large wood pile in her yard. Ida also babysat for many of her grandchildren. In 1984, Ida went back to school and earned her High School Diploma. She especially loved spending time with her family.

Ida is survived by her daughters; Marian Murdock (Gail) of Mechanicsville, MD, Barbara Ferguson of Bethel Park, PA, Ida Dishinger of Kaufman, TX, Rita Cole of Leonardtown, MD, Judy Frank (Charlie) of Loveville, MD, Elaine Joy (John) of Chaptico, MD, Glenda Mast (Wayne) of Mechanicsville, MD, and Maureen Abell (Timmy) of Leonardtown, MD, and her sons; Albert J. (Pat) Gray, Jr. (Betty Ann) of Waldorf, MD, and Michael Gray (Debbie) of Budds Creek, MD. Also her sister Catherine Ann Mullen (Duane) of Pensacola, FL. Ida is also survived by 22 Grandchildren, 46 Great-Grandchildren, 19 Great-Great-Grandchildren and 1 Great-Great-Great-Grandchild. Also many nieces and nephews.

In addition to her parents and husband, Ida was also preceded in death by her Grand-daughter Kim Ferguson Necessary, who was her oldest grandchild and with whom she shared a birthday. Also four son-in-law's; David Anderson, Bill Dishinger, Bill Cole and Dave Ferguson, her sisters; Edith Hill (Zack), Ella Pilkerton (Fax), Anna Larsen (George) and Nellie Law (Larnie) and her brothers; Willie Hill (Louise) and Bruce Hill (Jean).

The family will receive friends on Monday, October 23, 2017 from 5:00 PM-8:00 PM with prayers recited at 7:00 PM in the Mattingley-Gardiner Funeral Home, Leonardtown, MD. A Mass of Christian Burial will be celebrated on Tuesday, October 24, 2017, at 10:00AM in Our Lady of the Wayside Catholic Church, Chaptico, MD with Father Michal Sajnog officiating. Interment will follow in St. Joseph's Catholic Cemetery, Morganza, MD.

Pallbearers will be her grandsons; Mark Murdock, Al Gray, Chris Cole, Jeffrey Gray, Danny Mast, and Timmy Abell, Jr. Honorary Pallbearers; The rest of her grandchildren. Memorial contributions may be made to the Mechanicsville Volunteer Rescue Squad, P.O. Box 15 Mechanicsville, MD 20659 or to Hospice of St. Mary's P.O. Box 625 Leonardtown, MD. 20650. Arrangements by Mattingley-Gardiner Funeral Home.