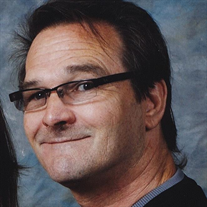 Michael "Mike" John Rabasco, III, 61, of Indian Head, MD passed away on October 17, 2017 at Ft. Washington Hospital. Mike was born on May 2, 1956 in White Plains, NY to Rose Marie Carrigan and the late Michael John Rabasco, Jr. Mike loved his family especially his wife and grandchildren who were the light of his life. He loved his late English bulldog and of recent his German Shepherd and enjoyed his goldfish and fish pond. He was a devoted Washington Redskins fan.

He was a mechanic, having many tools and each had its place and he would know if any were missing or out of place. He had a tow truck which was passed down from his father and a 1954 Chevy. He was known to carry the house cordless phone around in his shirt pocket as a cell phone and anyone who knew him knew not to disturb him during the hours of 1-2PM because he would be watching "Days of our Lives". Mike spent every Sunday morning listening to GAC (Great American Country).

In addition to his father, he is predeceased by his son Angelo Michael Rabasco and brother Dwayne Rabasco. In addition to his mother, Mike is survived by his wife of 17 years Patricia Renee (Smith) Rabasco; two sons; Michael John Rabasco, IV (Laura) and Antonio Cliffton Rabasco (Kelly); two daughters; Christina Lynn Tuinei and Angela Marie Norwood; two step-sons; Jeremy Chenette and Travis Chenette (Whitly); fourteen grandchildren; Stephanie Rabasco, Shawn Ruiz, Steven Ruiz, Alyssa Rabasco, Robert Norwood, Brianna Ruiz, Michael Rabasco, V, Deangelo Chenette, Khloe Chenette, Angelo Rabasco, Antonio Rabasco, Jr, Chloe Rabasco, Carson Chenette and Lincoln Rabasco; two great-grandchildren; two brothers; Richard Rabasco and Brian Rabasco and one sister Denise Rabasco.

Visitation will be on Friday, October 20, 2017 from 10:00AM until the time of service at 11:00AM at Raymond Funeral Service, 5635 Washington Ave, La Plata, MD 20646. Interment will follow the service at Trinity Memorial Gardens, Waldorf, MD. Arrangements by Raymond Funeral Service.